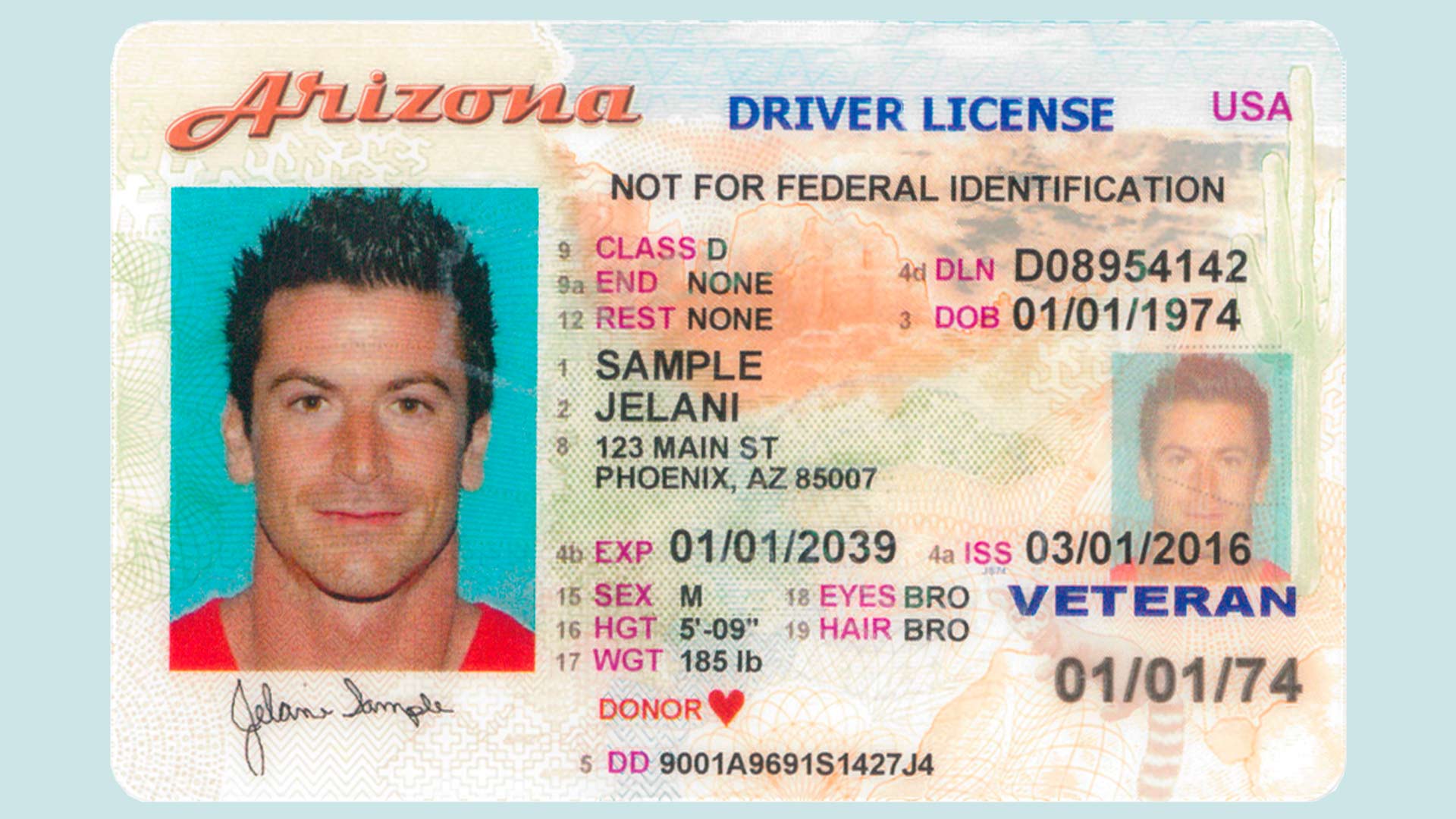 Example of an Arizona driver's license.
Arizona Department of Transportation
Listen:
Four things to know about Arizona's new Voluntary Travel ID:
1
It's available Friday, but Arizonans won't need one to fly commercially or enter restricted areas of federal buildings until October 2020.
2
You can't get it online. The new cards will only be issued at Motor Vehicle Division offices.
3
You'll need four documents– one to show legal status in the U.S., one with a social security number and two that show Arizona residency.
4
The only change in appearance on the new card is a gold star in one corner.
To learn more, read on:
The Arizona Department of Transportation will offer the new Voluntary Travel ID to state residents on April 1.
The new ID puts the state in compliance with the standards set forth by the federal REAL ID Act of 2005.
Because the state is offering the Voluntary Travel ID, regular ID cards will be accepted at airports and federal buildings until October 2020.
After that, any Arizonan wishing to fly commercially or enter a restricted area in a federal building will be required to have the new card.
The new IDs will not be available online.
"For first-time applicants who want these new travel IDs you have to come in and apply in person," said ADOT spokesman Ryan Harding. "That's one of the federal requirements from the REAL ID Act. You would come in to an MVD (Motor Vehicle Division) office or one of the 24 authorized third parties, and you have to bring four documents with you."
Harding said one document will prove legal status in the U.S., such as a birth certificate, passport, or immigration documents.
Another has to have a social security number, including a social security card or W-2 tax form.
The final two will be used to prove state residency, such as utility bills, a voter registration card, or bank statement.
The Voluntary Travel ID will need to be renewed in person every eight years. Current Arizona IDs require updating every 12 years.
The only difference in appearance between the new card and an old ID will be a gold star in one corner. Harding said the bulk of changes for REAL ID compliance will be behind the scenes.
ADOT computers will verify and share information with the federal government regarding before an ID is issued.
More information is available on ADOT's website.