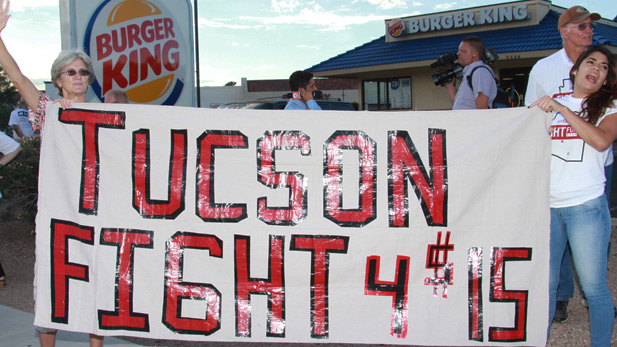 Tucson fast food workers at a protest in September 2014.

Brenda Limón
Arizona's minimum wage should rise to $12 an hour over the next four years, a group seeking a statewide vote on the issue has proposed.
Arizonans for Fair Wages and Healthy Families, based in Phoenix, filed paperwork with the state and got the OK this week to begin circulating petitions for an initiative measure on the November ballot. The group needs 150,642 signatures of registered voters by July 7.
Under the proposal, the rate would go to $10 an hour next January, to $10.50 Jan. 1, 2018, to $11 Jan. 1, 2019 and to $12 Jan. 1, 2020. After that, it would go back to annual increases based on the Consumer Price Index.
Arizona's current minimum wage is $8.05, and adjustments are considered annually by the Industrial Commission of Arizona based on the federal Consumer Price Index. It went from $7.90 to $8.05 at the beginning of 2015, and there was no adjustment this year. The federal minimum wage is $7.25 an hour.
A national push for a $15 minimum wage has taken hold in some states and has included rallies in Tucson and Phoenix, mostly involving fast-food workers.
Businesses generally have opposed an increased minimum wage, saying it will especially hurt small businesses and could lead to workforce reductions.
The state minimum wage proposal also would require businesses with a minimum of 15 employees to allow them to accrue and use 40 hours of paid sick time each year. For businesses with fewer than 15 workers, the paid sick time accrual would be 24 hours a year.
In Tucson, the City Council has considered a requirement for businesses to offer paid sick leave.
Read the minimum wage proposal here

View at Google Docs

|

Download File