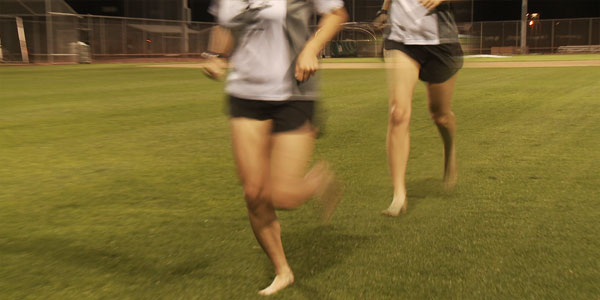 Running for fun and fitness is more popular than ever, and organized marathons and road races around the country are often filled to capacity. Along with the popularity of running comes the marketing of new running shoes designed to alleviate many of the issues encountered by runners.

Now, a recent study published in the scientific journal Nature, suggests that if we run with shoes we actually risk compromising our natural biomechanics, and may even be causing injury to our bodies. David Raichlen is an assistant professor of biological anthropology at the UA and he studies human evolution as it relates to bipedal walking and running. He says that the study published in Nature describes some simple differences in running that may have profound effects throughout the body of a runner. "If you run with shoes you are forced to land on your heel, and if you run barefoot you naturally land on the forefoot," he says. "This eliminates the 'impact transient.'"
Raichlen points out that endurance running evolved in humans around 2 million years ago, and even the simplest footwear did not come into the picture until very recently. The book by Christopher McDougal, Born To Run has also fueled the current barefoot running trend.
Randy Acceta is one of the founders of the Workout Group, a local coached running-club designed to provide guidance to a broad assortment of runners. He's seen an increased interest in running recently. He thinks that the study makes for an interesting conversation, but also reinforces some of the basic principals that he has always tried to impart to his runners.

Raichlen says that the study is revealing, but that many questions remain about how the findings will play out over the long-term.