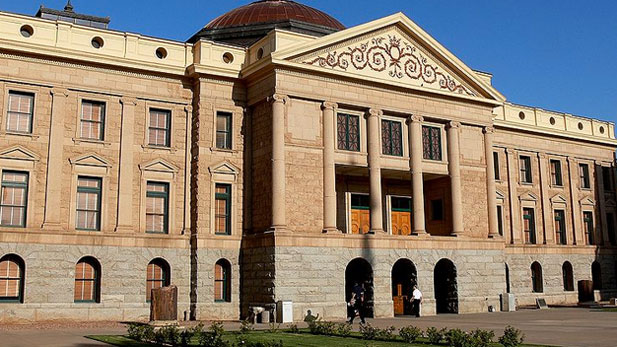 Arizona Capitol.

AZPM Staff
Listen:
Arizona earned a B, better than many other states, in an evaluation of the public's access to government spending records online.
The Public Interest Research Group graded each state on how well it provides spending records at the level of detail you might find in a checkbook register. That means being able to search by date, recipient, dollar amount.
The Public Interest Research Group surveyed all states, and said Arizona is better than others, but has room for improvement.
The state website, openbooks.az.gov, includes state and local spending information. The inclusion of local data was a plus for Arizona's transparency grade, said Diane Brown, the director of Arizona PIRG.
But one area of spending has consistently been hidden from public access, she said.
"Arizona needs to improve providing information on economic development subsidies to taxpayers," she said.
Without those records, the public cannot independently verify whether the promises a company made regarding economic impact were worth the tax credit or subsidy it received.
"If we don't know if that is realized or not, we don't know if it is it's a good investment in taxpayer money," Brown said.
The Legislature should require the state Department of Administration to post economic development subsidies online, Brown said.
The Public Interest Research Group has repeatedly identified the lack of information about economic development subsidies as a weakness in Arizona's public spending records.
Read the report on Arizona PIRG's website.