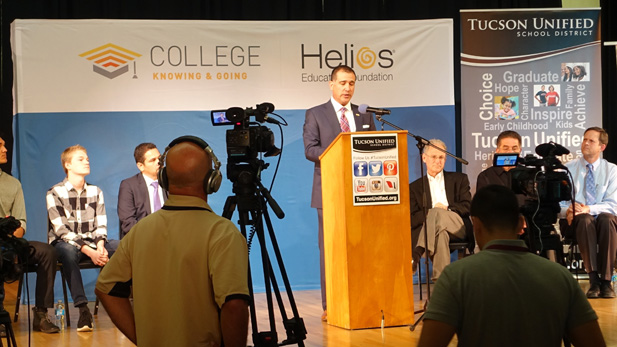 Helios Foundation CEO Paul Luna explains how a new $5.1 million college prep program will reach 145,000 students in five years, including at 20 schools in Southern Arizona

Vanessa Barchfield, AZPM
Listen:
Low-income and minority high school students in Arizona will get help preparing for college under a $5.1 million program unveiled Thursday.
The Helios Education Foundation announced it will work with 83 high schools, including 20 in Southern Arizona, to prepare students for college. The grant will be used to pay for ACT testing, college counseling and the application process and assistance completing the standardized federal student financial aid paperwork.
Thirty-seven percent of Arizona adults have a degree at the associate or higher level, below the national average. For Latino students and other minorities, the number is about half, said Helios Foundation CEO Paul Luna.
Thus the program to assist students and help get 70 percent of Arizona's population to and through college. That is the goal based on what the state's job market will demand at the time.
The program is expected to reach 145,000 students in five years, including at 20 schools in Southern Arizona, among them are TUSD, Flowing Wells, Sunnyside, Vail and Nogales school districts.
Luna said the idea is to make sure that every student in partner schools completes at least one college application.
"We don't care where it's at - whether it's a community college or university," he said. "Because that in itself begins to change the dynamic of the conversation that the students and the parents and the family is having about what that student will be doing after high school."
Luna said chosen schools have large populations of low-income and minority students.
"There's actually an achievement gap between kids of color and their peer white students," he said. "And so we want to make sure that we are eliminating that achievement gap and that degree attainment gap."