Coming In Hot , a one-woman play about women in the military, will debut in Tucson, September 24-27, at the Rhythm Industry Performance Factory, 1013 S. Tyndall. Tickets for opening night are $50; all other shows are $15 for general admission and $10 for students, vets, seniors. Tickets are available on-line at korepress.org.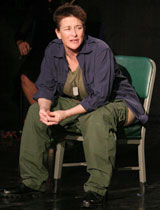 "Coming in Hot" is military lingo for arriving with guns blazing. The play, adapted for the stage by Shannon Cain, Lisa Bowden, and Jeanmarie Simpson is based on the book Powder: Writing by Women in the Ranks, From Vietnam to Iraq (edited by Bowden & Cain, published by Kore Press, 2008). Both the book and the stage play offer a rare glimpse into the current status of women at work in the nation's biggest corporation—the US military.
"A stage adaptation of Powder interests me deeply as a mother with a son who is about to be deployed for the second time, as a grandmother, and as a peace activist for 25 years," says Simpson. "As an artist, the material cries out to be performed."
Simpson, accomplished actress with 37 years' experience on the stage, will perform all characters in the play. After the show, audiences will be invited to participate in a recorded open discussion about the complex issues raised in the play.
"I approach a solo performance of Powder with more than a little trepidation and humility, knowing I will be channeling the voices of women who have literally been in the trenches and lived to tell the tale," says Simpson. "It is in their honor, and in the honor of those who haven't survived either end of the gun that I do this work."
Photos by Krista Joy Niles