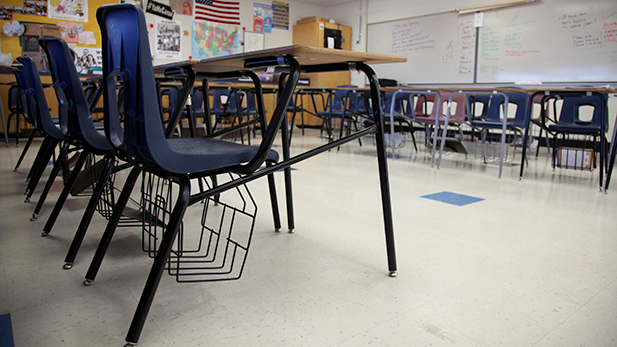 Fernanda Echavarri, AZPM
Listen:
How did we get here?
It started in 2000, when Arizonans passed Proposition 301, which increased the sales tax to give more money to public education and mandated the state adjust the amount of money per student the state gives schools each year to make up for inflation. This is called base level funding.
"When the Great Recession hit in 2008, the state Legislature through a series of political and legal moves failed to fund the inflation factor," Arizona School Boards Association Executive Director Tim Ogle said.
ASBA is one of the education groups that joined school districts to sue the state treasurer in 2010 for not adjusting the base level funding. Courts ruled in favor of the plaintiffs in 2013.
Appeals and failed mediations brought us to fall 2015, when legislators approved an agreement between the plaintiffs and defendants that would reset the base level funding and in doing so increase it.
There's also a pot of $625 million that would be distributed to schools over 10 years. In all, it is about $3.5 billion for Arizona public schools.
The money comes from two places– the general fund and the State Land Trust Fund.
What is the state land trust and why does it matter?
The federal government gave Arizona more than 10 million acres to fund education and 12 other beneficiaries in perpetuity. Today there are 9.2 million acres of state trust land. Most of it is in rural areas.

Arizona can sell or lease the land, invest the money and spend the profits to support schools and other beneficiaries.

Money now is distributed to schools at a rate of 2.5 percent. If voters approve Proposition 123 that payout would go to 6.9 percent for 10 years. There are several instances in which the Legislature could halt the new funding. These triggers include if sales tax revenue drops and if the K-12 portion of the state budget rises to 49 percent.

Uncertain budget future for schools
School districts have started a more-complicated-than-usual process to plan their budgets for the next school year. Proposition 123's passage or failure would mean a difference of millions of dollars for many districts.
The Tucson Unified School District's superintendent, at a recent school board meeting, compared it with the "Twilight Zone."
"Where there are alternate realities in the Twilight Zone," H.T. Sanchez said. "Things that don't seem real can be real."
TUSD officials estimate the district could receive a $9.3 million boost in the first year if the proposition passes. Sanchez said his recommendation would be to use the money to increase an already-planned $500-a-year raise in teacher salaries.
"We've been deferring roofs and replacing buses and everything else, but we have to have quality teachers to have quality instruction," Sanchez said.
As the Arizona Republic reported, schools are free to designate Proposition 123 money to wherever they think it is needed most.
All the districts AZPM spoke with said they planned to use some, if not all, the additional funding from to raise teacher and staff salaries.
"The greatest resources that we have is the people," said Sahuarita School District Superintendent Manuel Valenzuela. "It's a service-oriented profession and the people deliver the services to our students and their families."
Another priority is student safety, he said, and money from Proposition 123 could be used for upgrades and maintenance of school security cameras.
"It would allow us to keep those systems current, efficient and running well," Valenzuela said.
Here's how Tucson-area districts say they would use money from Proposition 123
Vail Unified School District: retention bonus for all staff, replacement laptops.
Sunnyside Unified School District: Salary schedule to compensate teachers for years of service
Tucson Unified School District: Teacher salary increases
Amphitheater School District: Teacher salaries, other priorities
Flowing Wells Unified School District: Teacher salaries
Marana Unified School District: Salaries, employee expenses
Sahuarita Unified School District: Teacher salary flat percentage raise, capital improvements to improve student safety, update instructional tech and resources
Tanque Verde Unified School District: Teacher salary and classified staff wage increases
Catalina Foothills Unified School District: Increase all employee groups' salaries, wages, and benefits. For example, raise the base salary for first-year teachers from $36,000 to $38,500. The average teacher raise will be 4.59 percent. The average raise for classified and support staff will be 3.78 percent. There are also planned raises for support personnel and administrators. The district also plans to underwrite the premium rate increase for the medical insurance plan and add positions for computer tech, teacher leader of elementary science and engineering practices, and school psychologist/special education administration.
AZPM emailed each district and asked how much each expects to receive from the passage of Proposition 123 and the three top priorities for this funding. Answers were edited for clarity.
What if it doesn't pass?
@mariana_dale What are viable alternate options? All I'm hearing is more 2-5 years of lawsuit with no other resolution in sight...

— Jessica Kull (@jessicabrin) April 4, 2016
AZPM posed this question to several people.
"We don't have a Plan B, and that would be catastrophic to our progress. We just need to get it passed and we need to talk about the next steps," said Tim Ogle is the executive director for the Arizona School Boards Association, one of the original plaintiffs in the lawsuit that lead to Prop. 123.
However, others, including Arizona Treasurer Jeff DeWit, who opposes the proposition, said it would be the responsibility of the Legislature to craft another solution, such as funding a new base level with money from the state budget surplus.
"If this goes down, if Proposition 123 goes down, the next day we can get everyone to the table and we can get them to agree to another solution to this lawsuit that will be much more money for these schools," DeWit said.
In January 2015 a Superior Court judge ordered the plaintiffs and defendants to come to an agreement through mediation. This failed and litigation resumed until the most recent agreement, Proposition 123.