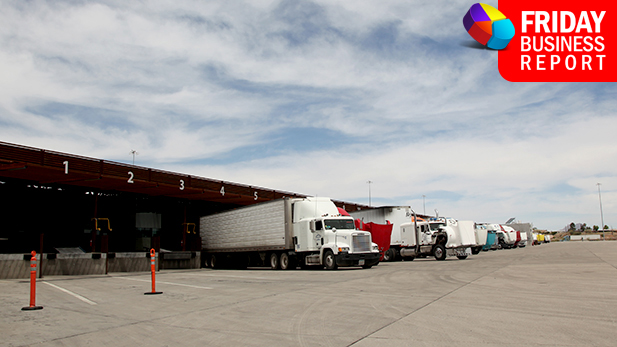 Fernanda Echavarri
Listen:
More than $18 billion worth of Mexican goods were packed up, sent north and crossed into Arizona in 2015.
About $13 billion made the opposite trip, starting in Arizona and heading south across the border.
Those imports and exports add up to about 12.5 percent of the state's gross domestic product.
"Mexico is a big part of our portfolio. Obviously it's our largest trading partner," said Arizona Commerce Authority spokeswoman Marisa Walker.
Those numbers do not even mention tourism. About 12.3 percent of overnight visitors to the state in 2013 were from Mexico.
With Mexican trade making up such a large part of Arizona's economy, the cross-border relationship between the state and its southern neighbor can be a major topic of debate.
That is why it was the focus of this year's Arizona Town Hall, which gathers representatives from a variety of industries and governments from around the state to discuss a topic.
While the final document from the event had several focuses, there was one topic that was prevalent on the minds of many participants.
"The infrastructure is woefully inadequate on the Arizona side," said participant Arlan Colton.
Colton spent 35 years as a municipal planner, including stints at Pima County, the Tucson Airport Authority, and the Arizona Land Department.
"There's some work to do on the Mexican side too, but really a lot of work that needs to happen here," he said.
An example, Colton said, is State Route 189. The five-lane road that connects the Mariposa Port of Entry to Interstate 19 is traveled on by more than 80 percent of the commercial vehicles that travel between Arizona and Mexico.
The road has long been mentioned as needing work. A project to rebuild the road will break ground in 2021.
"Transportation infrastructure across the border really facilitates almost all of the activity that Arizona has with Mexico," said Gail Lewis, a director in the Arizona Department of Transportation. "It facilitates all the commercial traffic and, of course, it also facilitates tourism."
It is not just the roads that lead into and out of the Mariposa that are considered an issue. The port itself has problems.
The Mariposa Port, the largest in the United States– $200 million to build it– and yet not enough staff to run it," said Lou Waters, an Oro Valley town councilman and Tucson Mexico Trade Coalition board member.
Staffing has been a problem since the port of entry was expanded, which lead to prolonged wait times for trucks entering the U.S.
That used to be a problem for traditional import industries such as agriculture and manufacturing, but as the Mexican economy develops, it becomes the problem for some of Tucson's growing industries.
"This is aerospace, medical technology, even mining. We have some strong growth in those areas as well," said Walker, with the Arizona Commerce Authority.
Many participants at the Arizona Town Hall said an important step to maximize the pace of trade on the border is to ensure that there is as little hampering movement between the two countries as possible.
"We've looked at this border lately as a monolithic barrier," said municipal planner Colton. "We're worried about it's an us-versus-them thing, but it's not an us-versus-them thing. It's an opportunity."
The participants said there are signs of hope on the horizon for some of the transportation issues. While State Route 189 is the only project that has a start date, others are being proposed.
Studies are underway for the Interstate 11 corridor, which would connect Nogales to Las Vegas, and governments on both sides of the border are in search of funds to study possibilities to build or improve rail lines connecting the southern Sonora town of Guaymas to Tucson.

Subscribe to the the Arizona Business Report on
iTunes