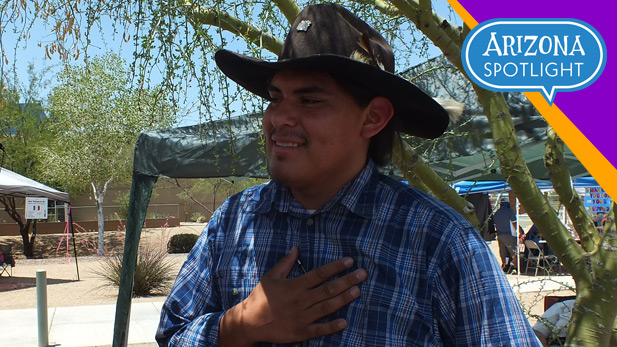 Maria Lourdes Escalante answers her door with a smile. The squeaky barks of her Chihuahuas fill the air as her brother-in-law sloshes water around in the sink as he does the dishes and her son flits around the kitchen table. It's a hectic Saturday morning, but her smile remains steady.
She is from the Pascua Yaqui Tribe.
"I am rather active in the Yaqui ceremonies and rather proud...of not only culture, but my involvement and my identity and living, you know, as a Yaqui person," she says.
Escalante doesn't live on the reservation, New Pascua Village located southwest of Tucson, but stresses the importance for all tribal members to participate in tribal elections. Since 2000, voter turnout has hovered around 20 percent and is even lower in special elections.
This year, all 11 seats of the Pascua Yaqui Tribal Council were up for grabs and 50 candidates ran for office.
She just graduated from the University of Arizona in May with a double major in Political Science and American Indian Studies.
"I got interested in political science because I like the idea of learning about the overall government that tribes have to deal with here in the U.S. and I also got a little interested in law due to my law and public policy emphasis," she says.
This election season she became an adminstrator for the website www.pytelections.org.
"It is a resource that each tribal member can access and they can look up," she says. "It kind of puts a face to the name they are voting for."
Candidate pages includes a brief biography, links to Facebook, websites and other social media accounts.
"It has been a nice learning experience because not only are we providing this resource to tribal members, we are learning about each individual candidate in the process," she says.
For a candidate to get her vote- they must demonstrate a commitment to education and cultural preservation.
"One of the trends that I've seen from current candidates they point out that education and the promotion of higher education is a big thing for them," she says.
She wants to continue her education and go on to get her master's and law degrees, but she faces financial challenges. Although the Pascua Yaqui Tribe provides scholarships to students at both the undergraduate and graduate level, graduate and professional degree seeking students receive less assistance.
She says she hasn't seen one candidate touch on the subject of funding graduate school.

Escalante also believes it is important for those on the Tribal Council to have gone to college themselves.
"One, you need the experience and two you need the educational background that is going to be completely applicable to not only governing the Nation, but also being a diplomat between the Nation and the state government and the federal government," she says.
A candidate must also care about the preservation of Pascua Yaqui culture.
"Culture is a huge factor," she says. "If it wasn't for that culture and the fact that it is a living culture that...our younger generations are picking up and our older generations are teaching, that's what makes us," she says.
Escalante wants candidates to tell her how they are going to work to preserve culture and see them involved in the community.
Although she has her criticisms, she believes voting in tribal elections is important for every member of the tribe.
"I don't want to be that tribal member who is always bashing other people. That is the common thing you hear all the time because it's so easy for us to be mean to each other and to bash each other. I don't want to perpetuate that...and it is really important for me to rather appreciate the process, the political process we are undergoing currently."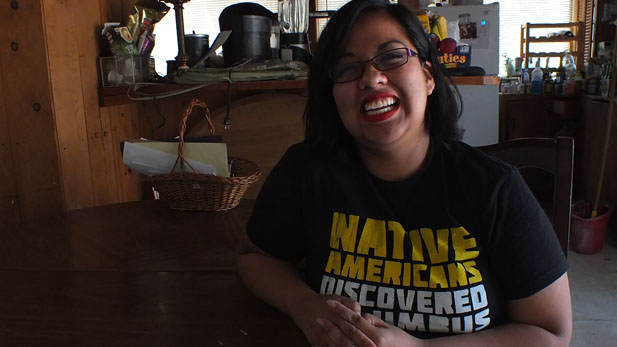 Maria Lourdes Escalante
Elections were held on Monday, June 6th and any member of the Pascua Yaqui Tribe 18 or older was eligible to vote at any of the four polling stations in Arizona- three in Tucson and one in Guadalupe.
Tents crowded the polling station at the Pascua Yaqui Wellness Center. Different songs filtered in-between the canopies as people gathered underneath the shade to protect them from the hot sun as they made their last pitch to voters as they walked inside.
Two first time voters hung around the tent of Caesar Buenamea- one of the candidates who ran for Tribal Council.
Loretto Moldonado is 20 years old and a first time voter. He's concerned about what he calls the 'mass majority of ignorance' in his community towards politics.
"It's important to vote, but here more so," Moldonado says. "This is going to more directly affect them, or have a bigger impact on them. This is where they live. The decisions they make up will be affecting them directly whether it be in Guadalupe, New Pascua even in Mexico- this is their opportunity to have something done or pick a representative they feel is for them," Moldonado says.
It's the intersection of compassion and know-how which can sway his vote.
"If they know economics, but they have no concern for the people, that doesn't do any good. That's just money in their own pocket, but they need to have that knowledge and that compassion for the people," he says.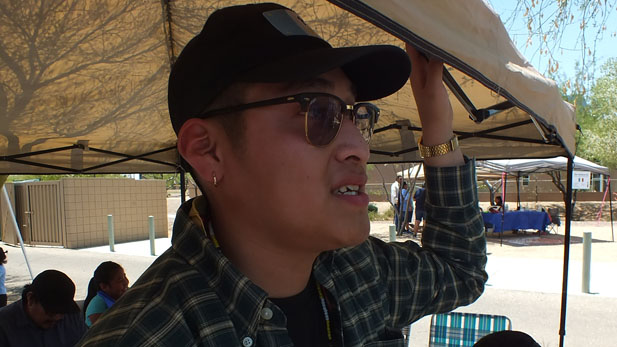 Caesar Buenamea
Sitting close by is Caesar Buenamea- the son of the candidate by the same name.
Buenamea says everyone knows each other on the reservation and he judges candidates based on who they are as a whole person, and not who they present themselves as while campaigning.
"I want someone who is not afraid to speak up for the community, that is not just going to go along just for the paycheck," he says.
Buenamea says a candidate's stance on cultural preservation, especially language preservation, is important.
He also says he wants to see future candidates take an interest in the talented young athletes within the tribe. He says this could be an opportunity to get kids into college through sports.
Youth votership is low on the reservation, and Buenamea believes this needs to change for the sake of future generations.
"Who you choose is going to make the future for us and our little brothers and sisters. Like I said, we are a small community and we need like change here. I see the progression, but I still believe we can be higher than we are now."