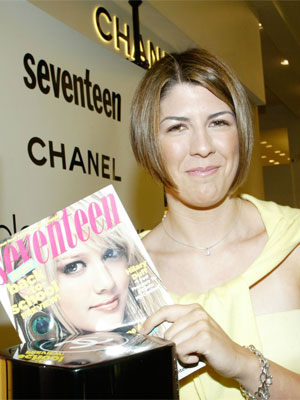 Gabriell Miller, Crybaby Couture
Story by Kim Craft
A contest sealed Gabrielle Miller's fate...along with a soupcon of luck and good genes from her mother Monica, who has made her career in retailing cosmetics and skincare products.

"I was taking French at the time," says Miller. "And the word for crybaby had just always stuck out in my mind."
Miller choose pleurnicheuse, or crybaby in French, to label a new lipstick color she developed that the Chanel fashion house adopted, and won her first place in the seventeen magazine contest. She now runs the signature boutique with her mother, which recently relocated to Main Gate square. The pair continues to fashion things themselves, satisfied in offering one of a kind items.
"People are just naturally drawn to learning how to make things themselves , and that's where we just have so much fun," explains Monica Miller.
The interior of the Crybaby Boutique screams unique. Bright paint colors and lampshades festooned with handmade flowers crowd the space, creating a feeling both homey and edgy. The mother daughter team has exercised their talents, branching out from cosmetics to creating accessories and unique party frocks. It took a leap of faith, and faith in themselves, to move the business from its previous location at Fifth Street and Tucson Boulevard. But the decision seems to be paying off for the pair, who both claim the University of Arizona as their alma matter.
"Business has been great over here," Gabrielle says. "We have a lot more walk-ins , traffic, than we were exposed to at our other store, so that's been great. "But the other thing that's been good is a lot of other customers from our other location work at the university or around here, and this location was really more convenient for a lot of them."
Monica Miller stresses the family's self reliance, and prides herself on never asking for a handout or a loan. She looks at enterprise as a sink or swim proposition, with a good dose of realism.
"You have to be aware that since the onset of Target, that is the culture now," explains Monica. "That's our department store reference. If that's your reference, take it seriously. That's the price point people are going for."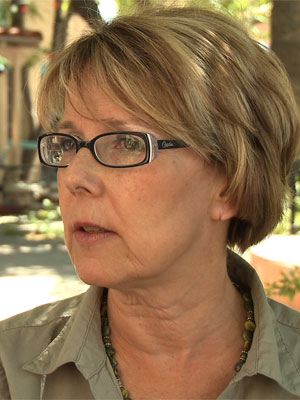 Jane McCollum, General Manager of the Marshall Foundation
In spite of a bad economy the Millers have reason for optimism. Statistically the number of women-owned firms continues to grow at twice the rate of all US firms, 23 percent versus 9 percent. There are an estimated 10 million privately held women-owned businesses in the US. Boosting the boutique's raison d'etre, according to Jane McCollum, the General Manager of the Marshall Foundation,that administers Main Gate square, the recession has had a limited impact.
"We're somewhat insulated at Main Gate Square because we are so close to the university and the university people still need to eat lunch and shop," McCollum says.
It's not totally un beau monde however, because as Gabrielle notes, the sprawling landscape and the economy limit the young-somethings from both pedestrianism and claiming Tucson as a permanent home. Yet in spite of the Super Target mentality of most shoppers, she sees an encouraging trend.
"Despite the economy people are willing to pay more for something that's one of a kind, customized for them," she says. "So we've been creating these one of a kind party dresses and really fun different things that people won't find in other places that has really helped us, and helped differentiate who we are."
McCollum says more changes along the avenue will continue to boost business. The Marshall foundation plans to build a mixed use 14 story high rise, that, pay attention, will include a multiplex theatre. Also the foundation is in the process of finalizing plans to build a new multi story dorm that will house 300 students. And the advent of the modern streetcar will increase the flow of shoppers both to and from downtown and points west, which might please Louise Marshall, the foundation founder, who bought three shares of stock in the original street railway in 1901.
"So the street car is doing what it's supposed to do, and that's making people believe that we need higher density, McCollum says. "We need to be urban. We need to do it sensitively so that our neighborhoods remain strong, but we still need to look at going vertical so we can protect our neighborhoods, particularly from mini-dorms which are very disruptive."
Who knew that women represent more than one third of all people involved in entrepreneurial activity? Je ne sais pas, but who's crying now?
The estimated 29.6 million small businesses in the United States:
Employ just over half of the country's private sector workforce
Hire 40 percent of high tech workers, such as scientists, engineers and computer workers
Include 52 percent home-based businesses and two percent franchises
Represent 97.3 percent of all the exporters of goods
Represent 99.7 percent of all employer firms
Generate a majority of the innovations that come from United States companies