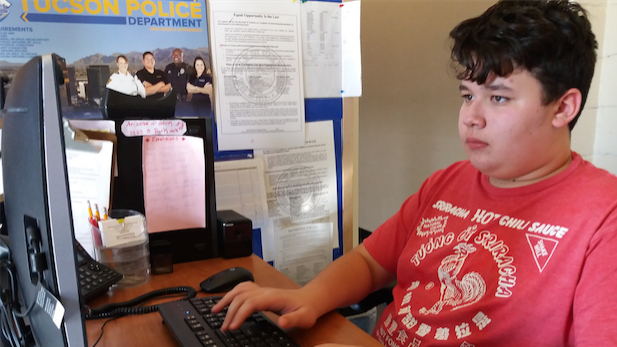 Lukas Juarez, worked as a receptionist at Pima County's Youth Employment One-Stop Center summer of 2016. (PHOTO: Michael Hernandez, AZPM)
By Michael Hernandez, AZPM Intern
Fourteen-year-old Lukas Juarez soon starts high school and, until now, had no work experience.
He worked as a receptionist this summer at Pima County's youth employment one-stop center, one of 1,100 teens placed in jobs through its just-completed youth employment program.
"I thought, why not. I don't really have much to do over the summer except for really stay home, and the work experience is going to be good on my college application. It'll look amazing," Lukas said.
Juarez said the job skills he would have never learned otherwise will help him.
"Now if I get another office job, I already know how to do these things beforehand," he said.
The employment center partnered with more than 250 public and nonprofit agencies and private businesses to put teenagers to work in jobs ranging from cooks and baristas to library pages and graphic design aides.
Program coordinator Maria Suarez was an intern herself in the 1970s. She said the internships benefit teens trying to help their families financially and homeless and foster youth without work experience.
"Those are the kind of youth also that we need to get in here to help them, you know so that they can get experience and then be able to be on their own," Suarez said.
Interns were paid the Arizona minimum wage at $8.05 an hour and worked 30 to 40 hours a week.
Suarez said she wishes there was enough funding to be able to accept the more than 3,000 applicants who applied this year.
"I'm grateful that there actually is a summer youth program," she said. "So we're very fortunate that our Pima County Board of Supervisors still believe in our youth and do this for us."
Lukas called the internship a bragging moment for him.
"I told my friend how much I was going to make and how many hours I had to work, and he was jealous," he said. "So he's going to do it next summer and hopefully get in."