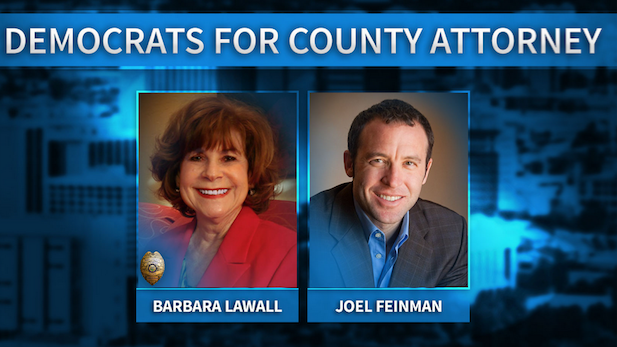 Robert Jaime, AZPM
Long-time Pima County Attorney Barbara LaWall is facing a challenger in this year's primary election, former public defender Joel Feinman.
LaWall claims a record of success and wants to keep doing the job.
"I have spent the last 40 years as a prosecutor in this office, and I have dedicated my entire legal career to protecting the community, to serving victims of crime, to running an office that develops innovative, unique, and creative programs to fight and protect crime victims and children and families and schools," LaWall said in a Metro Week candidates' forum.
"I run a cost-effective, efficient office," she said. "I have held violent and dangerous offenders accountable. We have a 92 percent conviction rate and an 85 percent conviction rate at trial and I have done an exemplary job."
Criminal defense attorney Joel Feinman challenged her claim to a record of success. Feinman said under LaWall's guidance, the court is sending too many people to jail, costing taxpayers too much money.
"Sixty-four percent, approximately, of Pima County's budget goes to law and justice in order, and we are spending that money at a time during which Arizona has the sixth highest incarceration rate per capita in the United States," Feinman said.
"When we're confronted with that statistic what that means is we're paying for Arizona to either have too many people in prison, or to incarcerate Arizonans who are the sixth most evil people in the United States," he said. "I believe flatly that we have too many people in prison."
Both candidates said the Pima County Jail is crowded. Feinman said he has looked at the makeup of jail inmates and found many who should not be there.
"What I saw was very low-level offenders with mental health issues and substance abuse issues being held in jail, often before trial for a very low-level offenses on bonds of $500 or $1,000, and because they couldn't pay $500 or $1,000, they couldn't get out of jail," Feinman said.
LaWall said she, too, has looked at the county jail population, and said it cannot be reduced until there are alternatives available for people who need psychological help.
"We found out that more than 80 percent of the individuals in the Pima County Jail are not felons," she said. "These are pretrial misdemeanants, and they are that population that we're working on getting out of the jail because often times they are mentally ill, substance abuse addicted.
"But we have to have another place to put them and not recycle them back in the jail which is actually become the biggest mental health hospital in Pima County."
The two candidates also differed their visions of the job. Feinman said the county attorney needs to stay in touch with the court system by taking a hands-on approach, personally trying some of the county's cases.
"First and foremost the job is to do justice," he said. "That's justice as an administrator, that's justice as the chief civil attorney in Pima County, and it's justice as the chief attorney in charge of criminal prosecutions.
"I do think the county attorney should be in court occasionally," he said. "I think that's the place where Ms. LaWall and I differ. I think that when you don't go to trial or when you don't go to court, you don't come down from the management floor and kick the tires every once in a while, you sort of lose track on the day-to-day reality of how the criminal justice system is functioning."
LaWall said she disagrees with that approach, because maintaining an active court calendar is impractical for the county attorney, who also has policy issues to negotiate with other county leaders.
"You cannot be in trial when the sheriff wants you at a meeting because there's some sudden community emergency or the police chief needs to talk to you," she said. "It just became untenable to do that. But I am in court. I'm watching my attorneys. I'm down there observing what goes on."
The winner of the Democratic primary will face the Green Party's Cynthia Tuell in the general election. No Republican ran for the seat.