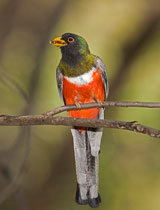 Many birders travel to southeast Arizona to see the elegant trogon, which has a much larger habitat in neighboring Mexico. (PHOTO: Tom Vezo)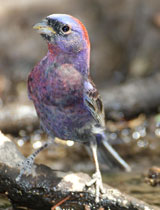 This varied bunting lives in much of Mexico but is more rare in the United States, where it is found in southern parts of Arizona, New Mexico and Texas. (PHOTO: Doris Evans)
When the Tucson Audubon Society was thinking about starting an annual birding festival a few years ago, some people raised their eyebrows when August was suggested. Six years later, the summer event is still going strong.
The precipitation and warm temperatures are good for plants and animals, according to Jennie McFarland, a conservation biologist at Tucson Audubon.
"You have the monsoon storms, the summer storms that make the entire Sky Island region bloom with flowers and all sorts of food for birds as well as tons of insects that so many birds love," McFarland said.
She said the group will be hosting field trips, workshops and a vendor area for the hundreds of participants who have already signed up for the festival.

Many visitors hope to see species such as the elegant trogon, varied buntings or some of the more than one dozen hummingbird species that have been recorded in Arizona.

"Southeast Arizona is such a destination nationally for ecotourism. People come from all over to view wildlife, especially birds, and it's a huge economic boom to this area," McFarland said.
According to some studies, birding activities contribute billions of dollars to the nation's annual economy, and Arizona benefits from the economic impact due to the varied landscapes and hundreds of endemic bird species.
The Southeast Arizona Birding Festival is from August 11-15.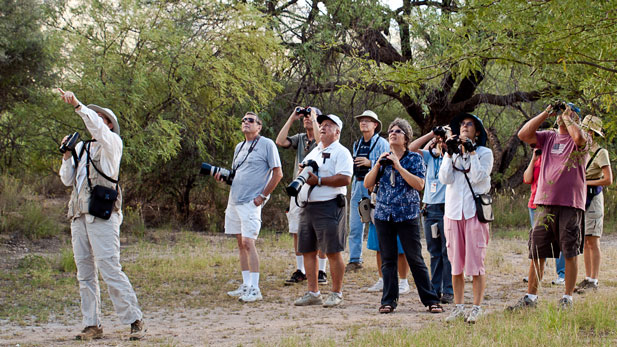 The Tucson Audubon Society began its Southeast Arizona Birding Festival in 2011 and has attracted hundreds of visitors to the events.

Glenn Butler