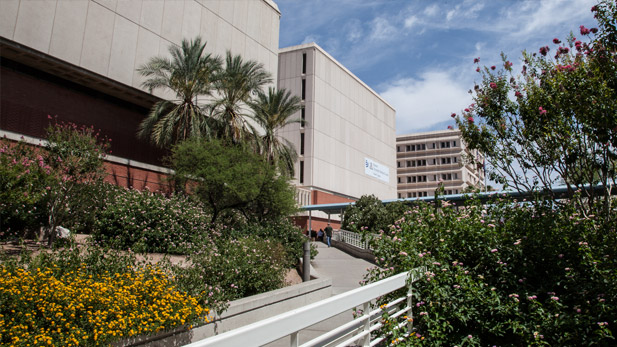 The exterior of Banner University Medical Center.

Stephanie Torres, AZPM
University of Arizona President Ann Weaver Hart this week called for an independent investigation into UA Health Sciences, which runs the university's two medical schools.
Scrutiny of UA Health Sciences has intensified following the 2015 affiliation with Banner Health, the exodus of senior management at the College of Medicine in Phoenix and the Arizona Medical Association's call for an investigation into the institution.
At the second of two special meetings on the department last Friday, Board of Regents President Eileen Klein said the first meeting, held the week before, brought many new questions to the fore.
"These questions and claims are far more troubling," she said. "Information has been brought forward that raises questions for us about the ethics of our leaders, the use of public moneys, the accuracy of information documented in public records, and the workplace culture and treatment of employees."
That statement appeared to catch President Hart off guard.
"I look forward to learning what President Klein is talking about so that I'll understand what those accusations she referred to are," Hart said at Friday's meeting. "And we certainly take everything very seriously at the university and will make sure that we have answers."
This week, Hart issued the following written statement:
"While information provided to me over the past months about disagreements among the executives at the colleges of medicine in Phoenix and Tucson and senior leaders in the Health Sciences has led me to initiate administrative interventions and to undertake an independent third-party review, the allegations made by ABOR President Eileen Klein at the beginning of the ABOR Health Affairs Committee meeting on August 12, 2016, in Tucson go far beyond complaints about leadership style, morale, and organizational climate or disagreements over allocation of resources. Ms. Klein's allegations, including misuse of public funds and alteration of public documents, were previously unknown to me. Under the circumstances, I have respectfully requested that the Board of Regents contract an independent third-party law firm to complete a comprehensive and independent analysis of the allegations and submit a report directly to the board. Further, I have requested that no UA or ABOR employee be involved in conducting this review. I expect the full cooperation and candor of everyone at the University of Arizona in this process."
As a point of disclosure, the Board of Regents holds the broadcast license to Arizona Public Media.