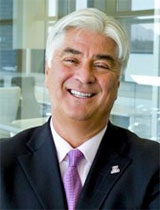 Joe G.N. "Skip" Garcia (PHOTO: Courtesy of UA Health Sciences)
The University of Arizona senior vice president of health sciences said Wednesday he is "deeply troubled" by allegations at a meeting of the Arizona Board of Regents Health Affairs Committee.
Joe G.N."Skip" Garcia told Arizona Public Media he does not have details about the claims and believes he and his department have done nothing wrong. Garcia characterized the allegations as unsubstantiated.
Last week, Board of Regents President Eileen Klein said questions have arisen recently over the use of public funds, the alteration of public documents and the workplace culture and treatment of employees at Health Sciences.
That prompted UA President Ann Weaver Hart this week to ask the regents to hire a law firm to conduct an independent investigation into the department.
"We're not anticipating that there is a basis for such an investigation into Health Sciences," Garcia said. "But if it turns out there is, of course we will fully cooperate and make sure that we identify what issues need to be addressed, and we're fully committed to addressing them."
He said he has already answered all of the Board of Regents' questions in "exemplary fashion" and he wants to know if there are any other concerns so he and his department can move forward as soon as possible.
"What we're interested in at Health Sciences is bringing closure to that whole question of, 'Is the Health Sciences going in the right direction?' And the answer, I think, is unequivocally 'yes.'"
The Board of Regents did not respond to a question about how it would handle Hart's call for an investigation.
The Arizona Board of Regents holds the broadcast licenses for Arizona Public Media