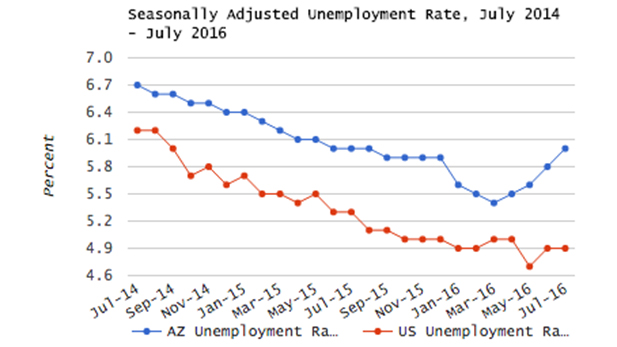 Arizona Office of Economic Opportunity
Arizona's jobless rate has been on the rise since March and now sits where it was in August of 2015.
The jobless rate hit 6 percent in July, according to a report from the Arizona Office of Economic Opportunity.
But one official said monthly increases have not been caused by Arizonans losing their jobs.
"If more individuals were being let go, we would see that in one indicator: the total Arizona unemployment [insurance] claims," said Research Administrator Doug Walls. "If they were losing their jobs, then we would see increases in [unemployment insurance] claims data."
Arizona's labor force growth in the last year has exceeded new job growth by 4,337 in the last year, according to the report.
That means Arizonans are not losing their jobs. It shows the job market is not growing fast enough to create a job for everyone who wants to work in the state.