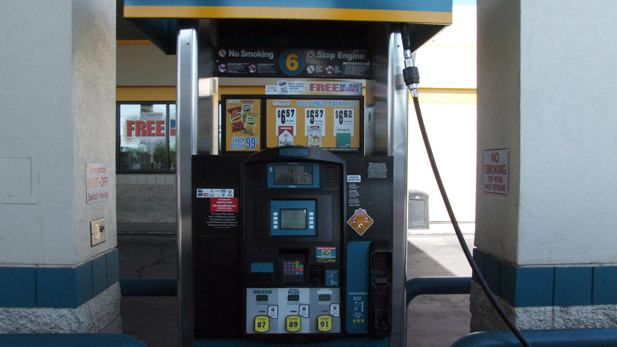 Rebecca Brukman
State officials are warning of increasing reports involving devices that illegally intercept the information of credit cards scanned at gas pumps.
Forty-four credit card skimmers have been reported to the Arizona Division of Weights and Measures so far this year. Eleven of those were in Tucson.
There were 11 cases reported in all of 2015 statewide.
Tucson saw the largest number of skimmers found in a single place. A gas station near Ina Road and Interstate 10 was found to have the devices on all eight of its pumps.
"We're doing inspections, and then we're also trying to coordinate more with the police departments, the banking industry, as well as the station owners to make people are aware that this is going on, and to have communication going to see how we can stop this," said Division Associate Director Michele Wilson.
Wilson said the division successfully fought for stricter penalties for those caught using skimmers in the last legislative session.
Her division monitors devices that dispense measured amounts of a product, among other duties. While her department works to find ways to curtail the problem, she said, there are certain measures consumers can take to safeguard their money.
Wilson said consumers can ask gas station operators what they are doing to prevent card skimming. They can also keep an eye out for suspicious activity on their bank accounts.
She also recommends using a credit card rather than a debit card when purchasing gas at the pump because it is easier to get reimbursed for fraudulent activity on a credit card.
Credit card skimmers are installed inside of a gas pump that has a pay terminal included on it. They intercept card information that is being transmitted for banking purposes. The stolen information can then be used to make a replica card.