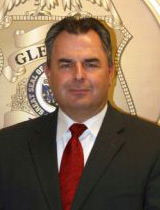 Mark Napier (PHOTO: napier4pimacountysheriff.org)
Mark Napier won the Republican primary election for Pima County sheriff Tuesday and will face incumbent Democrat Chris Nanos in November.
Napier had 65.4 percent of the vote to opponent Terry Staten's 34.6 percent. Nanos ran unopposed in the Democratic primary and will be seeking his first elected term after being appointed to the job last year.
Both candidates ran on platforms that emphasized questions about leadership in the office and put forward similar approaches to how it would be run.

Napier, the associated director for parking and transportation at the University of Arizona, said the need for new leadership in the Pima County Sheriff's Office is obvious.
"The department's had internal leadership for about 40 years, and then recently we've seen an erosion of that leadership," Napier said. "We've got an FBI investigation under way with the Department. Deputy morale is at an all-time low."
Napier worked for the police department in Tucson for 20 years and put in another year with the Glendale Police. He teaches criminal justice on-line for Boston University. He said varied experience and a good education make him best suited to be sheriff.