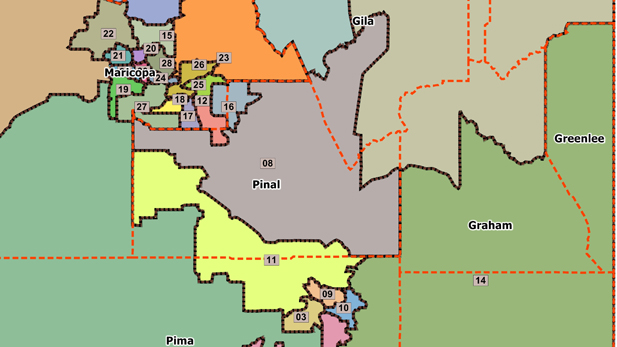 Arizona legislative districts, as drawn by the Independent Redistricting Commission in 2011. (PHOTO: Independent Redistricting Commission)
Competition was scarce in Tuesday's primary election for seats in Southern Arizona's seven state legislative districts.
Here's a breakdown of results for the region's House races, in which the top two are nominated for the general election ballot:
District 2, covering southeastern Tucson, the city of South Tucson, Sahuarita, Green Valley and all of Santa Cruz Count, has a three-way Democratic race. According to early results, incumbent Democrat Rosanna Gabaldón led with 37 percent, while Sunnyside School District Board member Daniel Hernandez Jr. had 34 percent of votes and recent law school graduate Aaron Baumann recorded 29 percent.

District 9 covers part of central Tucson and the Catalina Foothills, Flowing Wells and Casas Adobes neighborhoods. Democratic incumbent Randy Friese took the most votes with 42, while Pamela Powers Hannley's 33 percent was edged out incumbent Matt Kopec, with 25 percent.

District 10 runs from from east of the University of Arizona to the northern and eastern boundaries of Davis-Monthan Air Force Base and the edges of Saguaro National Park and the Coronado National Forest. Incumbent Democrat Stefanie Mach led with 36 percent while challengers Kirsten Engel and Courtney Frogge took 33 and 31 percent, respectively.

District 14, covering all of Graham, Greenlee and Cochise counties and part of eastern Pima County, featured four newcomers in the Republican primary. Becky Nutt won that race with 34 percent followed by Graham County Supervisor Drew John with 31 percent and and engineer Anthony Sizer with 22 percent.