The University of Arizona offers new benefit package.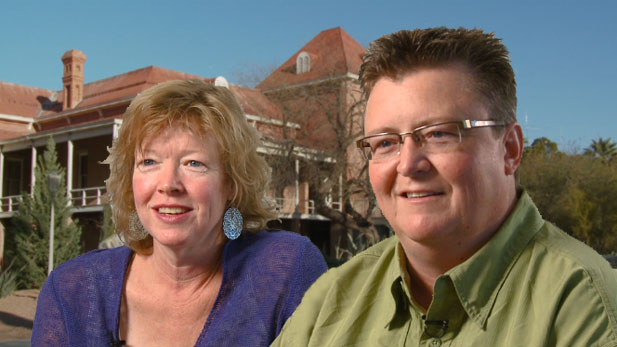 PHOTO: azpm
Domestic partners will be eligible for benefits
University of Arizona employee Carolyn Fort and domestic partner Dace Park
In 2009, the Arizona Legislature changed the law when it came to who qualified as a dependant for the purposes of state employee health plans. No longer would domestic partners, whether they were in a same sex or opposite sex relationship, be covered by state health plans. At the University of Arizona about 150 couples, many in opposite sex relationships, were faced with losing their coverage as a result of a change in the law.

Now, however, university officials have stepped in. When Open Enrollment begins later this year, university employees with domestic partners will have the option to get out of the state insurance plan and get into a similar health plan offered by the University of Arizona. Officials with the U of A say they made the change for two reasons.

First, they say was a fairness issue. They said it was not right that some employees were treated differently than others.

Second, was business. When the new state policy was announced a handful of staff and faculty members left the university. And officials say offering benefits to domestic partners is a major tool in recruiting faculty and staff.

The University of Arizona is the only public university in Arizona offering a benefit package to domestic partners.
Watch: