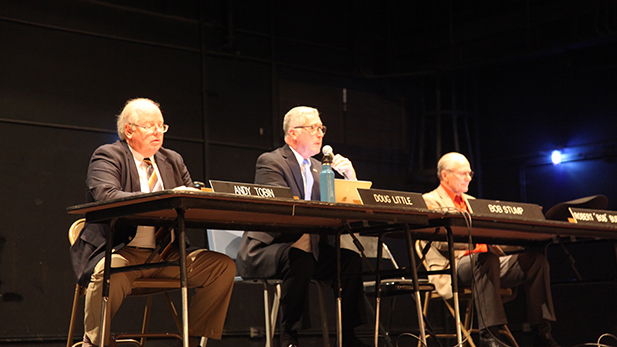 Arizona Corporation Commissioners (from left) Andy Tobin, Doug Little and Bob Burns appear at a Tucson meeting.

Zac Ziegler
Every person that spoke at a recent Arizona Corporation Commission meeting in Tucson voiced concern about a Tucson Electric Power proposal to change residential rates.
A major topic of discussion for many in attendance was proposed changes to net metering, or the amount the utility pays to buy excess electricity generated by its customers with rooftop solar panels.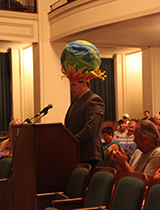 Many of those who spoke voiced their concerns with TEP's net metering rate change. (PHOTO: Zac Ziegler)
But net metering was not the only topic residents addressed at the three-and-a-half-hour meeting.
They also spoke against a proposed change to TEP's flat fee it charges residential customers to access the electrical grid.
Among the attendees were organizations that represent low-income residents, retirees, the disabled and others who live on fixed incomes.
"AARP is very concerned about the proposal that TEP has made," said Stephen Jennings, a representative of the group's Arizona office. "Taking what is really an access charge to electricity, the monthly customer charge, which is currently $10, and proposing raising it to $17."
Jennings' organization thinks the more appropriate place to increase rates is on adjustable rates.
"If the utility proves that it needs more money, and we want the lights to come on when we throw the switch, it should be in the volumetric charge or the charge for the amount of electricity people use," he said.
His argument, if people need to lower their bills, they can turn off lights around the house, or more likely turn up the temperature on their air conditioners.
"There were people here tonight testifying that they keep it at 83 degrees and higher to keep their bills down," said Jennings.
There are other groups besides retirees that advocacy groups warn could be adversely affected by the proposed change to flat fees.
"An increase of that amount on an annual basis before anyone even turns a light switch on is difficult for folks who are having trouble maintaining service as it is," said Cynthia Zwick, executive director of the Arizona Community Action Association.
The association works with impoverished people, a group Zwick thinks would suffer with rate changes. She agrees with Jennings that any increase should come through usage fees.
"It helps our customers manage the use of their fuel better, manage the use of their electricity more effectively. So if they know what the cost is and they can see what they're using on a monthly basis, they have the ability to reduce the usage."
Those with the utility company think an increase to usage fees would unevenly distribute the cost of upkeep.
"One of the principles in designing rates is to try and match the recovery of costs to those that are causing the costs," said TEP's Joe Salkowski. "In our case, many of the costs that we incur to provide service to residential customers are fixed."
It is the utility's view that such costs should be distributed in a fixed manner, too.
"What that results in, by and large, is a subsidy from those who use more energy to those who use less," said Salkowski.
But it does not remove a person's ability to save by reducing usage.
"There would be plenty of opportunities under our proposed rates for customers to save significantly by reducing their consumption. The percentage of customers' bills that would be accounted for by usage would still be greater than 80 percent."
After sitting through the meeting, Salkowski said he has a takeaway from what he heard.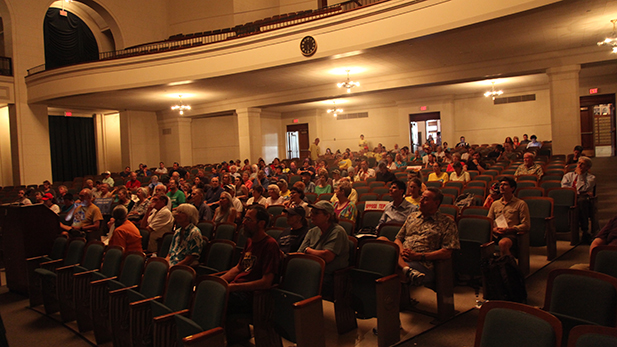 Many in the crowd gathered to voice their opinion on TEP's requests for changes to two different billing rates.

Zac Ziegler
"It's clear that we have some explaining to do when it comes to the details of our rate proposal," he said.
The company may be doing that in the near future.
Corporation Commission staff members are in hearings Friday and all next week, listening to expert testimony from interested parties in the rate case.
Those hearings will inform the staff recommendation to the commissioners.