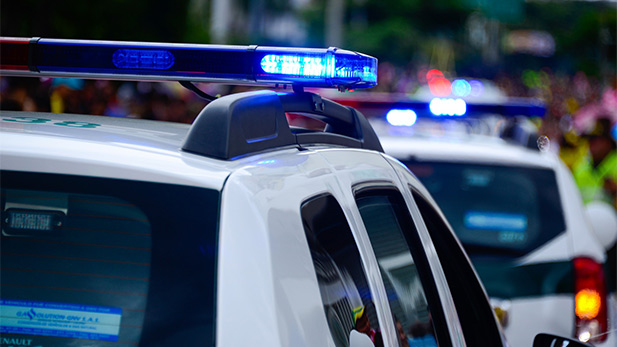 Flashing lights on top of a police car.
By Matthew Casey
Angela Vera is a small business owner and block watch leader. She lives in a well-kept home in the heart of Maryvale, very close to where police said a serial street shooter gunned down two people.
Maryvale is one of Phoenix's most diverse areas and home to many undocumented immigrants. Vera said it's likely some have seen or heard something that may help police catch the killer. But that doesn't mean they'll pick up the phone.
"Because they are scared they'll be reported and taken by immigration," Vera said in Spanish.
Since June, Phoenix police have been asking the public to come forward and identify a serial killer they've connected to seven homicides in the city.
But a 2011 University of Arizona study of SB 1070's effect on young people found nearly half of participants would hesitate to call law enforcement.
SB 1070 requires police, while enforcing other laws, to check a person's immigration status if they have reasonable suspicion someone is in the country illegally.
The hunt for a killer has brought to light an unintended consequence of the anti-illegal immigrant law, said Scott Decker, foundation professor at Arizona State University's School of Criminology and Criminal Justice.
"When the public loses confidence in their ability to be protected by law enforcement, then that hurts participation with law enforcement, cooperation," Decker said. "And that leads to more crime."
Two months have passed since the serial street shooter's last known attack.
In August, the case's lead investigator, Phoenix police Lt. Ed DeCastro, took questions at a community meeting inside the Mountain View Precinct. DeCastro gave few new details about the case and re-emphasized the need for public input.
"It's really going to come down to a tip and something that you guys can bring to us," DeCastro said.
The reward for information leading to the arrest serial street shooter started at $11,000. To help motivate the public, it's been raised several times, and it now sits at $75,000.
High-ranking law enforcement officials gathered for a news conference the last time the reward increased. Maricopa County Attorney Bill Montgomery promised not to consider the immigration status of victims or witnesses to the serial street shooter.
"This is a team effort — everybody in the community — and we need them to participate," Montgomery said.
He also said his position has been consistent going back to when SB 1070 first passed.
"And I followed up on that with correspondence to law enforcement saying, 'I want to underscore this. If the only reason you find out about someone's immigration status is due to their coming forward as a witness or a victim to a crime, do not investigate any further. We will not file any charges on that basis,'" Montgomery said.
But Montgomery's stance isn't known by all Maryvale residents.
Phoenix police recently held community meetings throughout the city as part of efforts to improve relations with residents. A meeting in Maryvale took place the day after police confirmed they're looking for a serial killer. Maria Rodriguez told the local precinct's commander that she trusted police before SB 1070. Now just seeing an officer scares her.
"It was very frustrating when I saw an officer behind me because I'd say, 'they're going to deport me,'" Rodriguez said.
While much of SB 1070 has been struck down, key parts are still in effect.
"The challenge that Mr. Montgomery faces, and it's a real and substantial challenge, is how to rebuild public trust in the community that's victimized the most, yet ironically trusts the police the least," said ASU's Decker, who also coauthored the book, Policing Immigrants.
The search for a cold-blooded killer has compelled police and prosecutors to build rapport with the immigrant community, Decker said.
"When this person's caught, and when they're convicted, and when they're in prison, we need this outreach to continue," Decker said.
KJZZ reporters Jude Joffe-Block and Casey Kuhn contributed to this story.