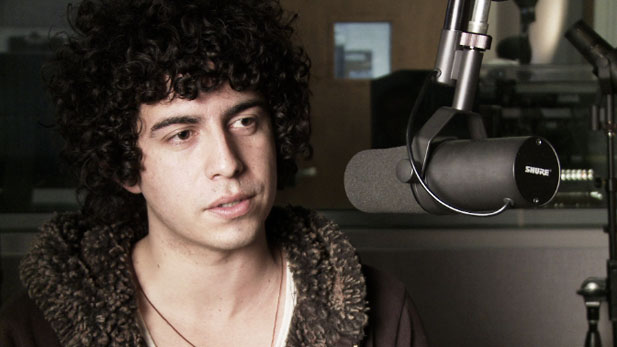 Brian Lopez

azpm
Brian Lopez visited the Arizona Public Media studios to perform songs from his latest collaborative project, and talked about what Tucson means to him as a musician.

The band included:
Brian Lopez | Guitar, Vocals
Mona Chambers | Cello
Jack Sterbis | Drums Sean Rogers | Upright Bass
Vicki Brown | Violin
Jim Blackwood | Audio Engineer
Brian Lopez (VIDEO: azpm)
This biography is from Funzalo Records:

Born and raised in Tucson, Arizona (situated 40 minutes north of the US/Mexican border), the twenty-something Hispanic/Polish Lopez found himself in an environment that was both nurturing and challenging. After completing high school, he studied classical guitar at the University of Arizona, where he received a Bachelor of Fine Arts in Music, and a double minor in Spanish and business. During that time he had an opportunity to live in Barcelona, Spain for six months, an experience that had a profound impact on him culturally. "People come to live in Barcelona from all over the world, nobody there is a native. It's impossible not to have a greater global perspective after an experience like that."
For the past three years, Lopez has toured the country several times over with his main project, Mostly Bears, recording around crazy job schedules while honing his skills as a guitarist, singer/songwriter and front man. It's paid off…they were picked by Las Vegas Weekly as one of the top 5 concerts of 2008, they made it to the final round of Zig Zag Live, they kicked ass at CMJ in New York City and SXSW in Austin, TX and the band has garnered much praise for their unique and captivating brand of 'Desert Space Rock.'
Now Brian Lopez is finally starting to get some recognition for his guitar-playing prowess in other genres. In addition to fronting Mostly Bears, Brian is currently playing with Sergio Mendoza Y La Orkesta, a Mexican/Mambo/psychadelic/cumbia/ dance-your-ass-off band fronted by Salvador Duran (Calexico, Iron & Wine). The twelve-piece band has played several shows around the southwest opening for Calexico as well as headlining shows at the historic Rialto Theater and The Wiltern in Los Angeles.
He has also found himself sharing the stage with Joey Burns and Calexico, something Lopez found challenging and a lot of fun. "It was an honor to be asked to sit in with Calexico," says Lopez. "They are probably the most diverse, respected and successful musicians from the Tucson area." As if all of this doesn't keep him busy enough, he recently finished a European tour with French chanteuse, Marianne Dissard, playing guitar and singing back-up vocals (in French!) Interested in different kinds of live music and composition, Brian looks forward at chances to play and write music that seems challenging and exciting. "I'd like to transcend my brand of pyschedelia into Latin rhythms and progressions…to switch languages lyrically, and still provide a universal sentiment musically."

He's taken that desire to transcend his boundaries with his most recent project, a solo project utilizing violin, cello, accordion, upright-bass and his good friend Sergio Mendoza as a partner onstage. It's a fluid undertaking for Lopez, seemingly effortless and spontaneous. "This solo band works as a duo, a trio, or with six people onstage," says Lopez proudly. And from the response that this project has gotten, his pride is well deserved. In the short 5 months that his solo project has been established, he has had the opportunity to play for crowds all over Europe as well as the southwest region of the United States.
Brian Lopez is a musical octopus, fluid, ambidextrous, and adaptable. His prowess as a vocalist and guitarist is only surpassed by his ability to look at every curve ball as an opportunity. He sees the world as a myriad of possibilities, and that translates beautifully into his music.
Brian Lopez can be found lurking music venues or recording studios around Tucson when not on tour or rehearsing.