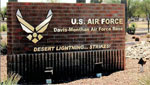 For the first time, two airmen from Davis-Monthan Air Force Base have been killed in Afghanistan.
Two airmen assigned to Davis-Monthan Air Force Base were killed on June 9, 2010 when their helicopter was shot down over southern Afghanistan. Technical Sgt. Michael Flores, 32, and Senior Airman Benjamin White were assigned to the 48th Rescue Squadron based at DM. Brigadier General Paul T. Johnson, the installation commander at Davis-Monthan, says Sgt. Flores was on his 8th deployment and was killed one day shy of his 12th anniversary in the Air Force. He has previously received 12 Air Medals and a Distinguished Flying Cross. Airman White was on his first deployment. The Taliban is claiming responsibility for shooting the helicopter down.
Sgt. Flores leaves behind a wife, who is also assigned to D-M, and two young children. Airman White leaves behind his mother and stepfather. Flags at Davis-Monthan will fly at half-staff to honor the two. Flores and White are the first two members of the Davis-Monthan community to be killed in either Iraq or Afghanistan.
Hear the official statement from Brig. Gen. Paul T. Johnson: