Electric car owners in Tucson are getting more places to charge their vehicles.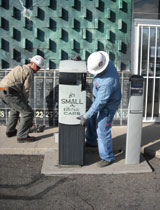 Bob Oldfather, the owner of Bookmans, helped break ground for a new, electric car charging station at the store on Campbell and Grant. The car charger is part of a network of up to 200 charging stations that will be installed in the coming months around Tucson.

The sudden interest in electric car chargers is due to the impending arrival of the Nissan Leaf in Tucson. Southern Arizona is one of the first regions to get the new Nissan electric car. The Tucson Clean Cities Coalition is spearheading the move to ensure the necessary infrastructure for a boom in electric vehicles is available. The new charging stations will charge any electric vehicle, including the Chevy Volt .