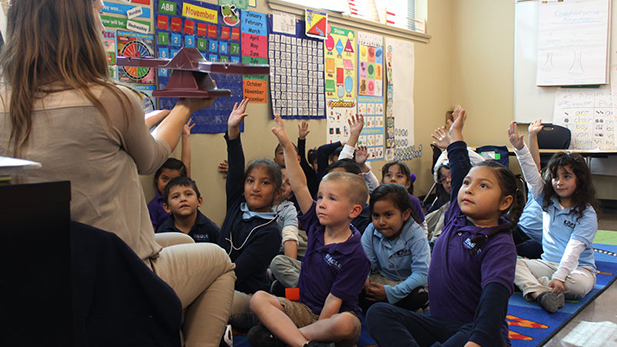 Students participate during class at EAGLE College Prep Maryvale on Nov. 16, 2015. The charter school is part of New Schools for Phoenix, an initiative that aims to develop 25-high-performing schools in some of the most impoverished areas of Phoenix by the year 2020.

Griselda Nevarez/Arizona Center for Investigative Reporting
Gov. Doug Ducey's office will invest $100,000 to launch the Beat the Odds Academy.
The Center for the Future of Arizona founded Beat the Odds in 2006 to answer one question: 'What does it take to get great results in schools with mostly low-income Latino students?'
"What we found was that there is a really strong link between an excellent school principal and student success," said Amanda Burke, senior director for education with the Center for the Future of Arizona, which started Beat the Odds.
Based on its research, the organization created a program to train principals across the state. Ducey's investment - combined with contributions from the Burton Family Foundation, Helios Education Foundation and Center for the Future of Arizona - will help transform the program into a statewide initiative.
"We really believe that every single school leader in Arizona needs to be able to receive the training and the support in order to develop as school leaders, so we hope to be able to reach school leaders across the entire state," said Burke.
The academy will start next fall with at least 100 principals in its first year.