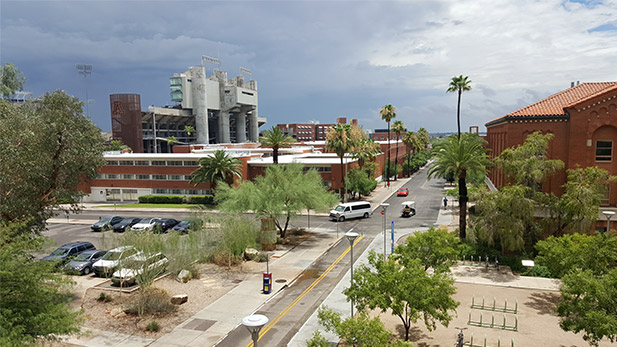 Monsoon clouds darken the sky over the campus of the University of Arizona and Arizona Stadium.

AZPM Staff
Most types of crimes on the University of Arizona campus were down in 2015 compared to the year before, with a few exceptions.
The biggest change, according to the university's annual crime report, was in the number of drug-related arrests, spiking 27 percent from 96 in 2014 to 122 last year.
Incidents of stalking, domestic violence, car theft and robberies also ticked up very slightly.
The number of rapes on campus dropped from 28 in 2014 to 18 in 2015. But Dean of Students Kendal Washington White said those numbers are probably not accurate.
"When it comes to sexual misconduct, sexual assault, domestic violence, it's often underreported," she said. "It's a national issue, and I think we need to continue to work on that. It's an area of concern for me."
She said she wants students to feel safe coming forward and reporting crimes on campus, and she and her office are working to increase awareness about the resources available to victims of sexual assaults at the UA.
To see the full report, click here.