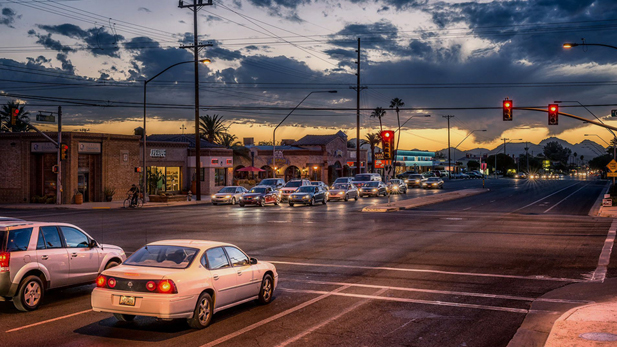 Tucson's Sunshine Mile has made the list of America's 11 Most Endangered Historic Places, published each year by the National Trust for Historic Preservation.
"The Sunshine Mile is a two-mile stretch between Euclid and Country Club along Broadway that is lined with mid-century modern commercial buildings that reflect the architectural progression of Tucson," said Demion Clinco, director of the Tucson Historic Preservation Foundation.
The stretch is also in the epicenter of the planned widening of Broadway, which, Clinco said, would have an impact on dozens of historic buildings.
For the past three decades, the endangered places list has spotlighted examples of the country's architectural and cultural heritage at risk of destruction.
Christina Morris, Los Angeles field director for the privately funded nonprofit National Trust for Historic Preservation, said 95 percent of those sites were saved from demolition or continue to be functional following their inclusion on the list.
"It's been an incredibly powerful advocacy tool," said Morris. "In the vast majority of instances, it's done exactly what we've hoped. [It has] allowed a property to get the attention and to bring people together to work toward a common solution."
Clinco said he's optimistic that will be the case in Tucson.
"My hope is that this is not an obstruction, that we can come together and use this designation to really get behind thoughtful and proactive land-use approaches that will result in the preservation of these buildings," he said, "and that we'll find alternatives to demolition that can result in a community with a lot more vitality and economic activity and that's really a place that we all want to call home."
Last year's list had two sites in Arizona: Oak Flat, the site of the proposed Resolution Copper Mine, and the Grand Canyon.
The 2016 list of America's 11 Most Endangered Historic Places (in alphabetical order):
Lions Municipal Golf Course – Austin, Texas. Widely regarded as the first municipal golf course in the South to desegregate, "Muny" is an unheralded civil rights landmark facing development pressure.
Azikiwe-Nkrumah Hall at Lincoln University – Lincoln, Pennsylvania. The oldest building on the campus of the first degree-granting institution in the nation for African Americans, this hallowed building currently stands empty and faces an uncertain future.
Bears Ears – Southeastern Utah. The 1.9 million-acre Bears Ears cultural landscape features a world-class collection of archaeological sites, cliff dwellings, petroglyphs and ancient roads that illuminate 12,000 years of human history yet is now threatened by looting, mismanaged recreational use and energy development.
Charleston Naval Hospital District – North Charleston, South Carolina. The historic district played a prominent role during WWII as a primary re-entry point for American servicemen injured in Europe and Africa. Now threatened by a proposed rail line, this important historic resource is at risk of being largely destroyed.
Delta Queen – Houma, Louisiana. This steamboat was built in 1926 and today is among the last of her kind. Federal legislation that would enable this prestigious ship to return to overnight passenger cruising remains a key piece to securing the Delta Queen's sustainability and future.
Chihuahuita and El Segundo Barrio – El Paso, Texas. These historic neighborhoods form the core of El Paso's cultural identity, but their homes and small businesses are threatened by demolition.
Historic Downtown Flemington – Flemington, New Jersey. Historic buildings at the core of the town that hosted the "Trial of the Century," the Charles Lindbergh baby-kidnapping trial, are threatened by a development proposal that would demolish the iconic Union Hotel along with three other adjacent historic buildings.
James River - James City County, Virginia. Jamestown, America's first permanent English settlement, was founded along the banks of the James River in 1607. The river and landscape, also named to this list by the trust in 2013, remain threatened by a proposed transmission line project that would compromise the scenic integrity of this historic area.
Mitchell Park Domes - Milwaukee, Wisconsin. A beloved Milwaukee institution for generations, a unique engineering marvel and a significant example of midcentury modern architecture, the Milwaukee Domes are facing calls for their demolition.
San Francisco Embarcadero – San Francisco, California. The City by the Bays' iconic waterfront is beloved by residents and visitors alike, but needs long-term planning to address the dual natural threats of sea level rise and seismic vulnerability.
Sunshine Mile – Tucson, Arizona. The Sunshine Mile is threatened by a proposed transportation project calling for the widening of Broadway Boulevard from four to six lanes and in some sections, all the way up to nine lanes – a plan that currently requires the demolition and sale of several properties on Broadway.
(PHOTO: Courtesy City of Tucson)