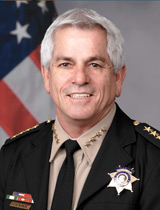 Chris Nanos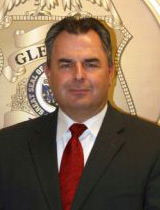 Mark Napier (PHOTO: napier4pimacountysheriff.org)
The race for Pima County's top law enforcement officer features an incumbent running on the department's strengths facing a challenger who says there are lots of problems, and he's the one to fix them.
The incumbent is Democrat Chris Nanos, who is running for sheriff for the first time after being appointed to the job by the Board of Supervisors a little over a year ago. Nanos says he's proud of the department's good relationship with the community, at a time when other law enforcement agencies around the country are coming under criticism.
The late Monday announcement that Nanos' chief deputy, Chris Radtke, had resigned after a grand jury indictment related to claims of money misuse in the department added a twist to the race that will play out in the remaining four weeks of the campaign.
Arizona Public Media's interviews with Nanos and Napier came before news of the indictment and thus do not reflect that development.
Nanos said in an interview that his deputies make an effort to be a part of the community, not apart from it.
"I have deputies who every year for the last 10-15 years have gone to the food bank and donated hours for stuffing 100,000 food bags," he said. "I have civilians who during their lunch break run out and serve food at the soup kitchen. This isn't because I'm asking or some sergeant tells you. It's because that's who they are."
Republican challenger Mark Napier, a former police officer in Tucson and Glendale who now works for the University of Arizona's Parking and Transportation Department, and teaches criminal justice online for Boston University, said there's a dark side to the Sheriff's Department, where he claims morale has hit bottom and deputies fear retaliation from above.
"It's probably the worst I've ever seen, and I've been around law enforcement for more than 30 years total." Napier said. "Now, there's little pockets of happy people, but I mean if you look at the agency as a whole morale is terrible."
"I think that's evidenced by the fact that the Pima County Deputies Association and the Corrections Officers Association have both endorsed me and indicated a lack of confidence in the current leadership," he added.
Besides dealing with morale inside the department and relations with the community outside the department, the winner of next month's election will have to deal with the problem of Pima County's jail population.
The county jail has room for 2,000 inmates and frequently runs close to that limit, risking sanctions from the U.S. Justice Department if the population stays too high for too long.
Neither candidate advocates building more jail cells. Instead, each wants to make sure the jail isn't filled with people who don't need to be there. According to Nanos, too many cells hold people who really need mental health treatment or don't pose a risk to the community.
"We have a number of people in there who are in there for their substance abuse and mental illness." Nanos said. "Seventy to 80 percent of that population suffers from mental illness, and that's a sad statement. Sick people don't belong in jail. Sick people belong at hospitals."
He also said people find themselves in jail for insignificant violations, like not being able to pay a traffic ticket.
Nanos says those issues are outside the control of the sheriff, but said he's working with the state to change laws that trap people in jail.
Napier also says the jail problem isn't something the county sheriff can solve directly. He sees the solution in alternatives to jail time for minor drug offenses.
"I think we need to more effectively reach out to community organizations to find alternatives to sentencing," Napier said, adding that incarcerating people for substance abuse is generally counterproductive.
Whoever is named Pima County Sheriff in November will have to deal with problems out of his control and work with other layers of government – and the community at large – to find solutions.