There's not a lot of snow in Southern Arizona. When an opportunity for sledding arises, no one should pass it up. At least that's the way Daniel Gutierrez feels about it. Daniel is a Special Olympics athlete from Tucson who competes all across Arizona alongside his teammates. At 28 years old, Daniel hasn't let many good opportunities pass him by. He competes in five sports, holds a job and lives in his own apartment. He hopes to one day participate in national and international competitions.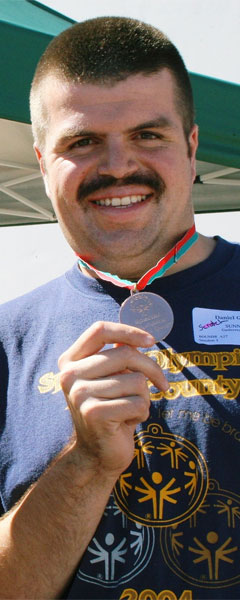 When I met Daniel at a bowling tournament in Tucson, he eagerly shook my hand, despite that fact that he was carrying his lunch and his arms were completely full. He had finished bowling for the day, and was about to head outside for the awards ceremony. I followed him out to a table with his coaches and teammates. Rows of tables were full of Special Olympians awaiting the results of the tournament. Police officers were calling out the medal winners and with every announcement came both screams of excitement, and tears of disappointment. But Daniel knows how to handle disappointed teammates. He tells them, "Come on, cheer up. You can do it, don't be crying, don't be sad, just cheer up." And if that doesn't work, he insists, "I just make them laugh."
Daniel considers his most admirable qualities his sense of humor and his friendly demeanor. He pictures himself as a stand up comedian and his coaches and teammates seem to agree he'd be good at it. Chris Lemmond has been coaching Daniel for 13 years. "He's a good kid, he's one of the better kids on the team. He's always there for practice." Lemmond turned in Daniel's direction, elevated his voice, and knowing full well that Daniel showed up four rounds late to the tournament, adds, "Sometimes he shows up late, but he's always there." With that, Lemmond provoked Daniel to let out a Chewbacca-like chuckle and his teammates cheered and high-fived their coach. One of their favorite things about Daniel is the way he laughs. It wasn't long before the whole table was cracking up.
As the medal ceremonies continued, Daniel ate his sandwich and waited his turn. He tells me he keeps all of his medals in a box at home. In addition to bowling, Daniel competes in floor hockey, softball, basketball and track and field. In his collection are 77 medals, 27 of which are gold. He hoped the outcome of the bowling tournament would get him one gold medal closer to his goal of 40, but he worried his missed rounds may have lessened his score. "I got here late but they still let me bowl. I'm like, please let me bowl, please let me bowl! And they did!"
Daniel had taken three busses and walked three quarters of a mile to get to the bowling alley. "He could have called and asked someone to give him a ride," says Holly Thompson, "but he likes to be independent." Thompson is the Area Director and Outreach Manager for Special Olympics in Southern Arizona. In the five years that she's known him, Thompson has watched Daniel grow as an athlete, and a leader. "He often helps coach the younger athletes in floor hockey and basketball and looks for opportunities to assist the coaches with other tasks," she tells me.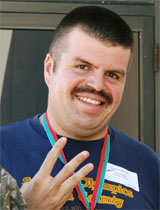 Daniel modestly admits that he admires the skills and attitudes of other Special Olympians. He adds that he can't help but respect the athletic abilities of others though. He tells me, "A lot of athletes have more gold medals than me, than anyone. They've probably been longer in Special Olympics. Some of these athletes are older than I am; they have a lot more experience. I learn from the older guys, you know." He shows me some of the slick skills he's been taught, but he doesn't hesitate to tell me the embarrassing stories either. Daniel recalls, "I was playing floor hockey last year in Flagstaff, and I actually made a goal for another team. Oh, it was terrible. My coach goes, it's all right. You're going to score another goal. And I did. I went on the other side and scored a goal. I was cracking up. It was very funny."
The story had us both laughing pretty hard. Daniel's humor is contagious. But, if a career in comedy doesn't pan out, he has a backup plan. He explains, "I want to go to school to be a physical therapist's assistant. I had surgery on my legs when I was 12 years old. My feet were crooked, and surgery made them straight." Daniel worked closely with his physical therapist at Sunny Side High School and felt inspired and encouraged to pursue that career path. His physical therapy has left him with two good legs with which he can play five sports. And he doesn't take his good fortune for granted.
When I asked Daniel what the coolest place he had competed was, he told me, "Flagstaff, Arizona." Literally, it was the coolest. In fact at a competition there a few years ago, it snowed, and Daniel seized the rare opportunity to go sledding with his teammates. All of them. Even the one in a wheelchair. "Despite great difficulty," Thompson told me, "Daniel physically carried his teammate back up the sledding hill three or four times, just so that he could experience the joy of sledding alongside of his teammates." Daniel got the team spirit award that year.
Finally, the announcer called out Daniel's name. Bronze medals for him and his partner. But the Special Olympics have provided Daniel with more than just a heavy box of medals. He says it has made him a stronger person who values good sportsmanship. "You just have to be a good sport. If you lose or win you have to be a good sport about it." And he is. "Johnny we shoulda got more strikes, man! Next year. Third. I'm cool about it. Another one to add to my collection." While his sense of humor and friendly demeanor are indeed evident characteristics, his most admirable quality is his humble leadership.