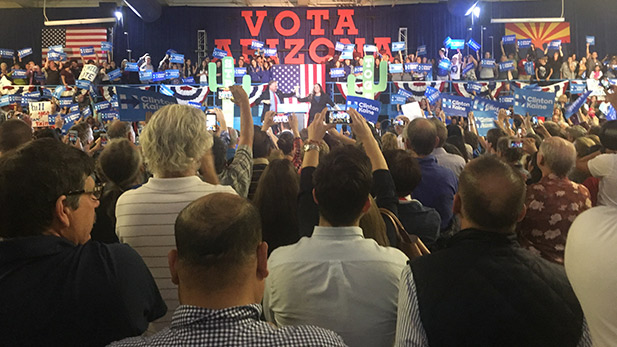 Democratic Vice Presidential Candidate Tim Kaine at a Tucson rally. November 3, 2016

Christopher Conover, AZPM
Democratic vice presidential candidate Tim Kaine held a Get Out the Vote Rally at Sunnyside High School in Tucson Thursday night.
Speaker after speaker, from Tucson Mayor Jonathan Rothschild to former Congressman Ron Barber, implored the capacity crowd to cast a ballot on Election Day.
Kaine kept with that theme.
"Volunteer, call, knock on people's doors persuade them. We're going to have a big victory next Tuesday. With your help we will make history, we will change history," he said.
Kaine also promised comprehensive immigration reform in the first 100 days of a Hillary Clinton administration.
The 50-minute speech was interrupted three times by protesters who were quickly escorted out by security.
Arizona is a reliably Republican state, but this year it is seen as a toss up, leaning Republican.
Both campaigns have brought in the entire ticket to campaign in the state. Donald Trump was in Phoenix last weekend and his running mate, Mike Pence, was in Mesa Wednesday. Hillary Clinton also held a rally on Wednesday in Tempe.
Arizona has 11 electoral votes.