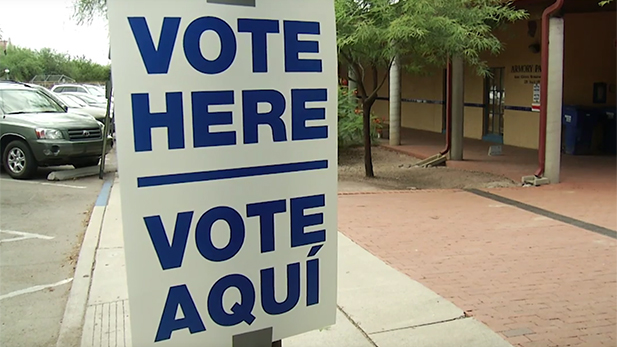 A sign outside the Armory Park Community Center near downtown Tucson.

AZPM
PHOENIX (AP) — A federal appeals court has blocked an Arizona law making it a felony to collect early ballots, a win for the Democratic get-out-the-vote effort shortly before Election Day.
Friday's order from an 11-judge panel of the 9th U.S. Circuit Court of Appeals means it won't be a crime for groups to go door to door to collect early ballots from voters and deliver them to the polls. It's a tactic especially effective in minority communities.
A three-judge panel had rejected an effort late last week by Democrats and some voters to block the law. They allege it violates the Constitution and the Voting Rights Act because it hurts minorities' ability to vote.
It comes as the presidential race has gotten closer in the traditionally red state.
The Republican-controlled Legislature enacted the law, which Republican Gov. Doug Ducey signed.
Read the decision here.