Congressman's call for boycott over SB1070 prompts letter from fellow Democrat and Gov. candidate.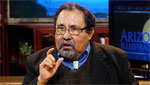 Arizona Congressman Raul Grijalva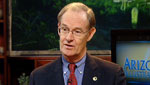 PHOTO: azpm
Terry Goddard
Democratic Congressman Raul Grijalva received a letter from Arizona Attorney General and gubernatorial candidate Terry Goddard last week. Goddard took Grijalva to task for advocating an economic boycott of Arizona in protest of the state's new immigration law. Grijalva says Goddard is missing the point. But Goddard says Grijalva may already be moderating his stance.