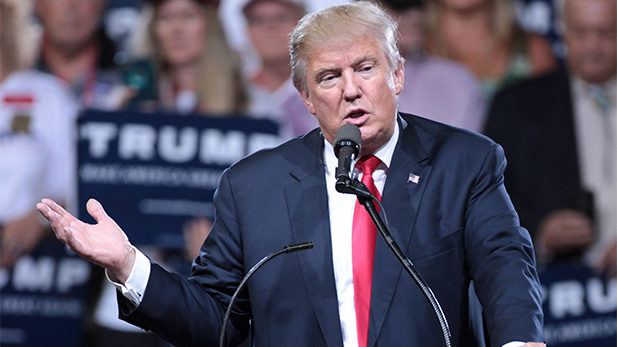 Donald Trump speaking with supporters at a campaign rally at Veterans Memorial Coliseum at the Arizona State Fairgrounds in Phoenix, Arizona.

Gage Skidmore
Arizona gave Republican Donald Trump a piece of his presidential victory Tuesday.
Trump had 49.6 percent of the vote to 45.5 percent for Democrat Hillary Clinton. Libertarian Gary Johnson trailed at 3.8 percent.
Polls showed a narrow lead for Trump in the state going into Election Day.
Trump made seven trips to Arizona and his running mate, Mike Pence, made several more. Clinton became the first Democratic presidential candidate to campaign in the state, appearing twice and sending her running mate, Tim Kaine, to the state twice.
The Republican reiterated his key stances on the issues and used Arizona in September to declare his firm stance for border security and against illegal immigration.
"A Trump administration will secure and defend the borders of the United States, and yes we will build a wall," he told a crowd in Phoenix.
Clinton also stuck to her campaign-long stance on immigration in a speech in Tempe last week.
"I will fight to pass comprehensive immigration reform with a path to citizenship to keep families together, to keep our economy together," she said before 10,000 people, one of the biggest audiences of her campaign.
Clinton's husband, Bill was the last Democrat to win Arizona's electoral votes, in 1996. Before that, a Democratic presidential candidate had not won the state since Harry Truman did it in 1948.