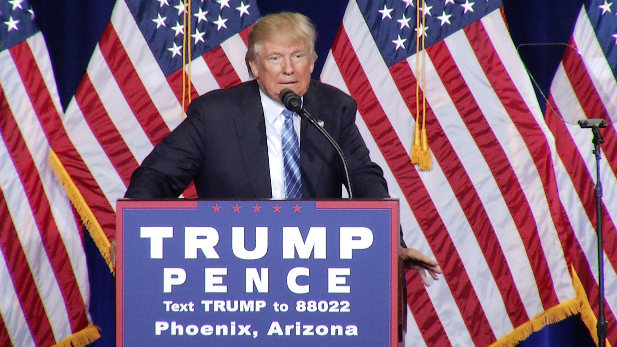 Then-Republican presidential candidate Donald Trump, Aug. 31, 2016.

Steve Riggs, AZPM
Arizona has a role to play in the administration of president-elect Donald Trump, one of his campaign officials has said.
"I do think Arizona will have a voice in the new Trump administration," said Brian Seitchik, Trump's campaign manager in the state.
Trump visited Arizona seven times in the campaign that led to his victory in the presidential race. Seitchik points out that Republican state Treasurer Jeff DeWit was the first elected official to support Trump, and eventually became the national chief operating officer of the campaign.
The issue of immigration, he added, was central to the Trump campaign and has high visibility and importance in Arizona.
"As a border state, immigration is a key issue here. It has been for a very long time. But it's also an issue that other states are dealing with."
Hear more of Arizona Public Media's interview with Brian Seitchik and more on immigration issues in a Trump administration, Friday on Arizona Week, 8:30 p.m. on PBS 6.