Story by Luis Carrión
The music of Namoli Brennet is often labeled as folk. But if you listen closely you can tell that the lyrics and tone of her songs push beyond the boundaries of this catchall generic term. Namoli herself finds it difficult to try to categorize her sound. "That's for some sort of objective third party to try to decide," she says before conceding that she's primarily a singer-songwriter who is trying to deliver an artistic vision while being true to herself.

"Being true to herself" is an ongoing process, and she says that being Trans, is simply a natural outcome of that need to have integrity. Namoli Brennet was born male, and transitioned to female. She says that without embarking on this transformative journey she would not have been able to write and perform music with any sort of creative substance. "It was impossible for me to get to (this) point creatively without uncovering the purest and most authentic version of myself."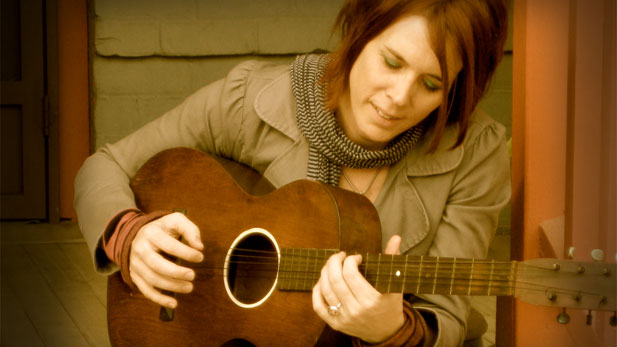 Namoli has been a resident of Tucson for about 15 years, and has been playing music since she was 6. She came the University of Arizona to study choral conducting after having received her undergraduate degree in music from Western Connecticut State University. She says "eventually I came back to being a singer-songwriter, which was my original idea… I sort of got a little distracted."
She may have had a few distractions in the process, but her roundabout path to becoming a singer songwriter and touring musician has been well served by her ongoing academic focus on music. In her home studio, where she's currently fine tuning the mix of her upcoming CD, she moves fluidly between piano, guitar, mandolin, and bass. She'll also get behind the drum kit to lay down some tracks if she feels inspired. She considers herself lucky to be able to play so many instruments, and says that it's a little like being a painter that tests different colors on a canvas. She keeps working through an intuitive process until it feels right.
Namoli currently performs and tours primarily as a soloist. She says that she prefers the intimate connection with the audience as a soloist, and finds that the ensemble setting often dissipates the power of her songs. "With a group your energy goes latterly… and the connection with the audience is more direct as soloist," she says. "I think that's part of why I like it… It's a very direct line of communication."
You can see Namoli Brennet, in February, as part of the local music program In Tune on KUAT Channel 6.