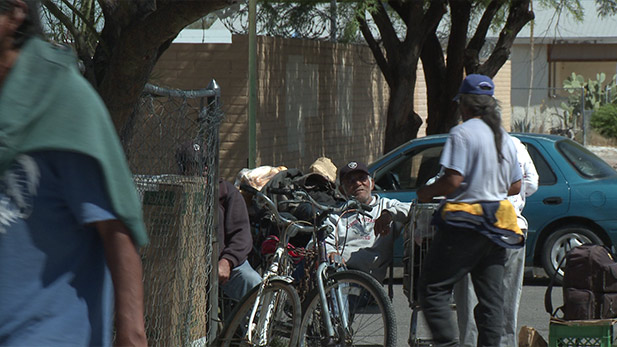 Soup kitchen workers hand out food to the homeless.

AZPM Staff
Listen:
Tucson is making progress toward reducing its homeless population, as the number in Tucson has dropped 45 percent in the last decade.
The data are from the U.S. Department of Housing and Urban Development, which compiles annual homeless population counts from metropolitan areas.
In the latest count completed this year, there were 1,765 homeless people identified in Tucson. The peak was in 2010, when 3,643 homeless people were identified. In 2007, there were 3,201.
The nonprofit organizations in Tucson that work to prevent and end homelessness are focused on housing veterans. President Obama identified Tucson as a city that could combat veteran homelessness by the end of 2015.
Ending veteran homelessness means to provide more housing than the number of people entering homelessness every month, according to Jodi Frederick, a clinical director of rehabilitation services at the Southern Arizona Veteran's Administration. She provided that definition in an interview with AZPM a year ago.
Another focus in Tucson is a model called Housing First. That model provides shelter before addressing a person's other needs, such as unemployment and medical issues.