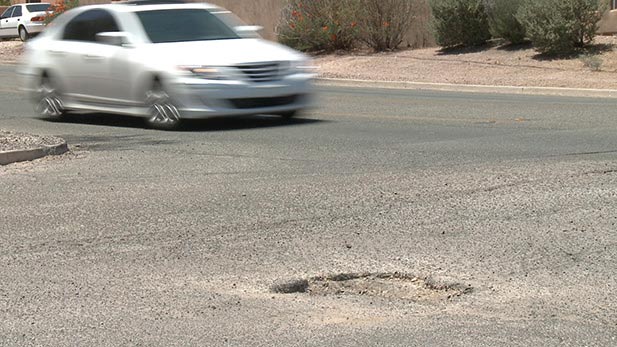 A car travels near potholes on a Tucson-area street.
Listen:
Cities and counties throughout the country struggle to pay for road maintenance, and one Pima County official said this week it could be due to bad foresight decades ago.
Pima County Public Works administrator John Bernal retires this week. He can look out his window and spot the effects of a mistake he says the state and federal governments made more than two decades ago: crumbling roads, because there's not enough money to keep up with maintenance.
"I think the bet that we missed many many years ago was that we didn't index the gas tax to inflation," Bernal said. "We would have kept up with things a lot better, maybe not have solved it all."
Bernal has overseen transportation, sewer and flood control for the last 16 years. He said raising the gasoline tax is not a politically popular idea, it has not received traction in recent years, despite poor road conditions.
He said the best option available to local governments is to look to sales taxes. He proposed adding a half a cent to the county's existing road tax. Shoppers in Pima County pay a half cent for road construction, but it doesn't go to maintenance.
Add another half cent, he said, and "make it available for pavement preservation, operation, maintenance, I think will go a long ways toward addressing our needs for road improvements."
A sales tax increase would require voter approval.