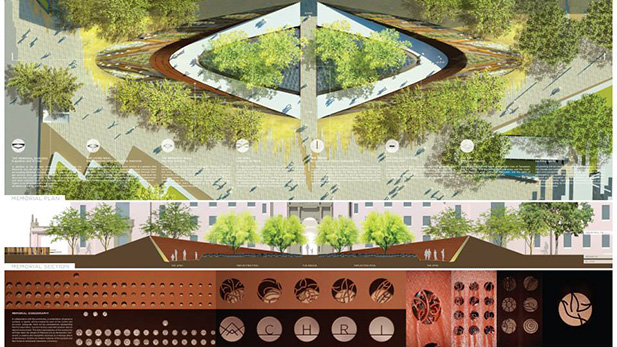 The Chee Salette Architecture Office proposed this design for a Jan. 8 memorial in 2015. The proposal will be refined with public input.
Tucson Medical Center is donating $500,000 toward construction of a planned memorial to the victims, survivors and first responders of the shooting in Tucson Jan. 8, 2011.

The shooting occurred at a constituent event held by then U.S. Rep. Gabrielle Giffords. Six people died and 13 were injured, including the congresswoman.
TMC CEO Judy Rich said the gift is in line with her organization's mission as a community hospital.
"We believe that our role and our responsibility is to serve our community," she said.
The memorial will be constructed in downtown Tucson's El Presidio park.
"It's a wonderful place to put some of our money to give a very strong show of support and to honor all the people who were involved," Rich said.
Crystal Kasnoff, executive director of the January 8 Memorial Foundation, said she expects construction to begin in 2017.
TMC's gift brings the total amount raised to $1.8 million dollars. The memorial is expected to cost between $4 million and $5 million.