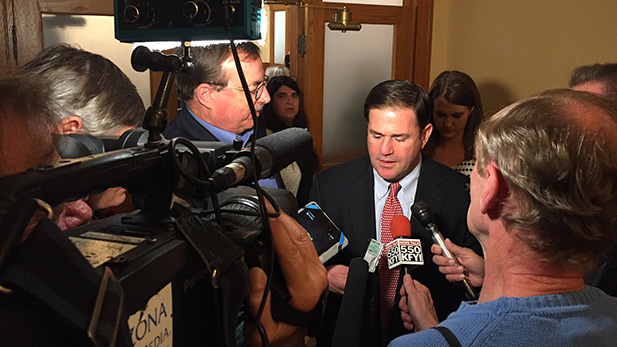 Governor Doug Ducey meets with reporters in Phoenix to talk about the law suit against the minimum wage increase. December 19, 2016 (PHOTO: Jacobo Ramirez, AZPM)
Gov. Doug Ducey will not directly comment on a lawsuit trying to put the voter-approved minimum wage increase on hold.
The governor said the future of the minimum wage increase is now in the hands of the court.
"We'll let this work through the court. I'm going to let the lawyers do what they do and we will deal with the decision," said Ducey.
Those challenging the minimum wage increase said it should be thrown out because it does not contain a funding source for state workers and contractors affected by the change.
Arizona law says any ballot question that could hit the state budget must include an explanation of where the money will come from.
State government does not have to comply with the minimum wage increase.
Ducey said he ordered his agencies to comply with the law, no matter what is decided by the courts. He also said he has heard nothing about a special legislative session to put the question back in front of voters.
Proposition 206, the minimum wage increase, passed 58-42 in November.