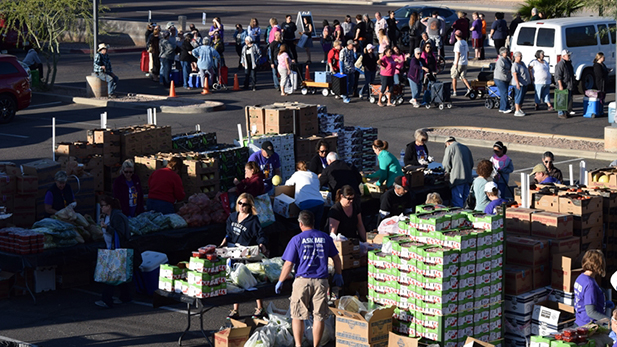 Nancy Montoya, AZPM
Mexico's winter vegetable season is in full swing, and buyers from around the world are poised to shop for the produce in warehouses on the U.S. side. But not all of that produce will make it to stores.
A little over two decades ago, millions of pounds of edible fresh produce leftover in these warehouses would likely wind up in Nogales, Arizona, landfills. That has changed.
"Well, what we have been doing for 23 years this January is rescuing fresh produce."
Rescuing it, said Yolanda Soto, the head of the Borderlands Food Bank in Nogales, Arizona, from rotting in a dump.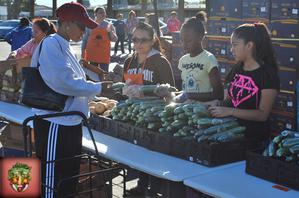 Nancy Montoya, AZPM
"We go directly to the distribution warehouses when they call us and pick up product," Soto said. "We have two warehouses. We bring it to our warehouses and we separate it out into our four major projects."
From there, it goes to people who need it, in Nogales and all over Arizona. The challenge of distributing it gave birth to Produce on Wheels – With Out Waste, or POW-WOW.
With a grant, Borderlands Food Bank purchased four tractor-trailers that make weekly runs to Tucson, Phoenix and other cities in Arizona. They set up mostly in church parking lots.
Borderlands wanted food to go directly to families. So for a $10 donation, anyone can get 60 pounds of fresh produce. The only requirement is that you register on site with the food bank. There are no income or citizen requirements.
Sacred Heart Catholic Church on Fort Lowell Road in Tucson is one of the regular distribution sites. There, one recent weekend, the line started to form at 6 a.m. Sixty-five-year-old Abby Eason was among those waiting.
"It's a very good thing. Spend $10 and get between $60 and $100 worth of vegetables. What difference does that make in your life? It makes a big difference because I'm just living paycheck to paycheck. "
Mary Green also came early.
"It makes a huge difference to me and my yard guys and my neighbors, because every week that I go I divvy it up among lots of different families".
Then there is Michael Johnson, who comes almost every week. Sometimes he'll double or triple up on his purchase – and not because he's greedy.
"I don't do this so much for myself. My mother is 84 and she's homebound. And what I do is I take these vegetables to her. She takes what she wants and she distributes to her friends. I have neighbors I give them to. I have a couple of single moms I give them to. So basically I'm the pied piper of vegetables on Saturdays."
The food is also distributed into Mexico to food banks there. According to Borderlands Director Soto, "We are the only food bank that I know of that is international. And because this product comes from Mexico, how are we not going to share with our sister state in Sonora?" she asked.
Soto said none of this would be possible without help from the state Department of Corrections. A work crew of low-level offenders shows up four times a week. They are paid the maximum allowed by DOC.
"And they're getting ready to come back into society. They've already paid for their mistakes, and we love to have them because they are the backbone of what we do."
The food bank also relies on dozens of volunteers, as it gets no government funding. It operates by its own rules based on need.
For more information, visit the Borderlands Food Bank website.