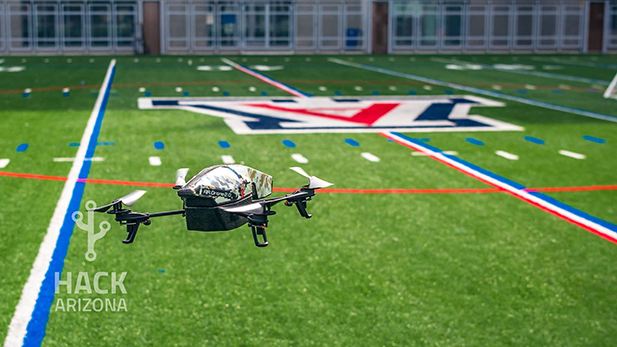 A drone at Hack Arizona 2016.

Hack Arizona via Facebook
With a seemingly endless list of hacking allegations crossing the globe every week, Tucsonans may feel apprehensive to hear a "hackathon" is coming to town this weekend.
But it's not that kind of hacking.
"A lot of people interpret hacking as in malicious people trying to steal bank data or trying to break into government organizations. But the word 'hack,' in its original meaning, is more of 'creation,'" said Austin Mutschler, the marketing director of Hack Arizona.
The University of Arizona-hosted event aims to bring together innovative students from all over Arizona and the world. These students will form teams of four or less and create something – anything – involving technology, over the course of 36 hours.
"They create something – so, software, hardware, a website, some people play with drones."
In its third year, Hack Arizona is expecting about 800 participants. It attracts the expected coders and engineers, but the organizers, who are all students themselves, encourage people from other disciplines to consider participating.
The event, which Mutschler said is the biggest of its kind in the Southwest, has a list of high-profile sponsors, including Google, Microsoft and Amazon. Many of these sponsors will be giving tech talks throughout the weekend.
And if that sounds like a recruitment fair, the sentiment isn't far off. Last year's winner stayed awake for all 36 hours to build a "drone flight area control" that could control a fleet of quad-copter drones. According to Mutschler, the creator was offered a job by Tucson missile-maker Raytheon, another of the event's sponsors.
"One of the biggest cost benefits for our sponsors is that they get to see … people in the technical field working on personal projects that they actually want to work on," he said. "They get to see what you can actually do."
However, he said, it is mainly an educational event for participants.
The free event starts Friday, Jan. 13 and goes through Sunday. Registration is open until midnight Thursday, though a limited number of UA and Pima College students will be able to show up Friday without registering.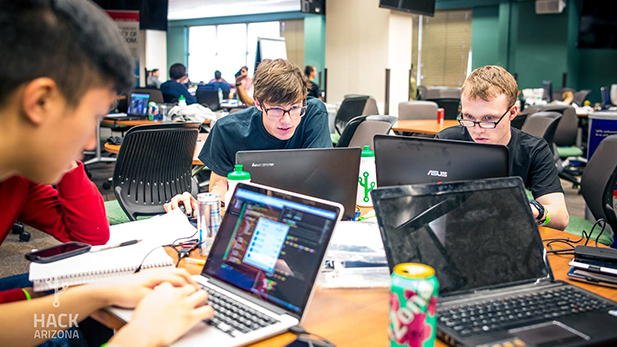 Hard at work at Hack Arizona, 2016.

Hack Arizona via Facebook