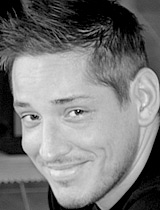 Morgan Lucas Schuldt
And he says it all started with a grilled turkey...
New Jersey-born Morgan Lucas Schuldt was on track for a career in law when a revelation came to him in front of a campfire where a turkey was sizzling away. He thought about the power and longevity of poems he had read by Walt Whitman and Robert Frost, and Morgan made a decision right then and there that he was going to follow his muse, wherever it would lead him.
Before finishing graduate school here in Tucson, Morgan was the co-founder of a prose poetry journal called CUE. CUE has since moved online like many other literary journals, due to the ever-rising production costs of staying in print. But going against the grain, Morgan simultaneously began his own publishing business CUE Editions to produce limited-edition chapbooks for writers who's work he admires.
Listen to the interview: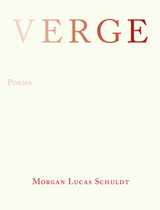 Morgan Schuldt's debut collection of poems was published in 2007
Morgan Schuldt is the author of a book of poems called Verge , which was published by Free Verse Editions in 2007, and two chapbooks: Otherhow (Kitchen Press, 2007), and L=u=N=G=U=A=G=E (Scantily Clad Press, 2009).
You can read L=u=N=G=U=A=G=E online with the author's permission, or visit his blog A Peek of Reach.
Bonus audio:
Morgan Schuldt reads from his collection Proem, with some backing music provided by Calexico.
(Thanks to Annie Guthrie at the University of Arizona Poetry Center for making this interview possible.)