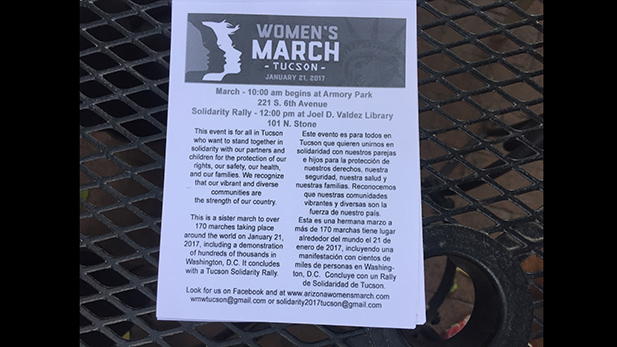 A flyer for the Tucson's Women's March on Washington sister event, Jan. 21, 2017.

Vanessa Barchfield, AZPM
Estimates suggest tens of thousands are expected to descend on the nation's capitol for the Women's March on Washington, and many more will walk in sister marches, one of which is taking place in Tucson.
The march is scheduled for the day after Donald Trump is inaugurated as president, and those outside of Washington, D.C., have the option to join one of 281 other coordinated marches in cities across the U.S. and the world.
Florence North, 87, plans to take part. She's been part of many marches over the years, including the Poor People's March in D.C. in 1968, in marches for reproductive rights and in anti-Vietnam events in New York.
North will have company next Saturday. She lives in the Voyager R.V. Park and said she knows 35 people from her community who are planning on attending. She thinks that number could reach 50 by next week.
"What we're trying to do is put together carpools, men and women, to get down to Armory Park," she said. "We're concerned about parking. So a lot of the husbands have volunteered to drive us down. And if they find parking spots they will join us."
The women - and men - from Voyager will be a crowd of what organizers say could be up to 5,000 marchers.
Shauna Anderson started a Facebook page for a march in Tucson just days after last year's election. The news of the national march had her looking local.
"I didn't really consider [going to the national march] because I have young children and a full-time job," she said. "But as soon as I saw the national march, I hopped right over to the Arizona site and saw all sorts of people asking, 'Is there going to be a march in Tucson?' And after seeing those questions asked over and over again, I decide, 'OK, I'm going to start the one in Tucson."
She said momentum grew within the first few days and soon she wasn't alone in the planning. One of the people she teamed up with was Tim Lennon.
"I was interested in responding to the election," said Lennon. "And feeling that the community needs to demonstrate its solidarity and work to defend communities that may be vulnerable."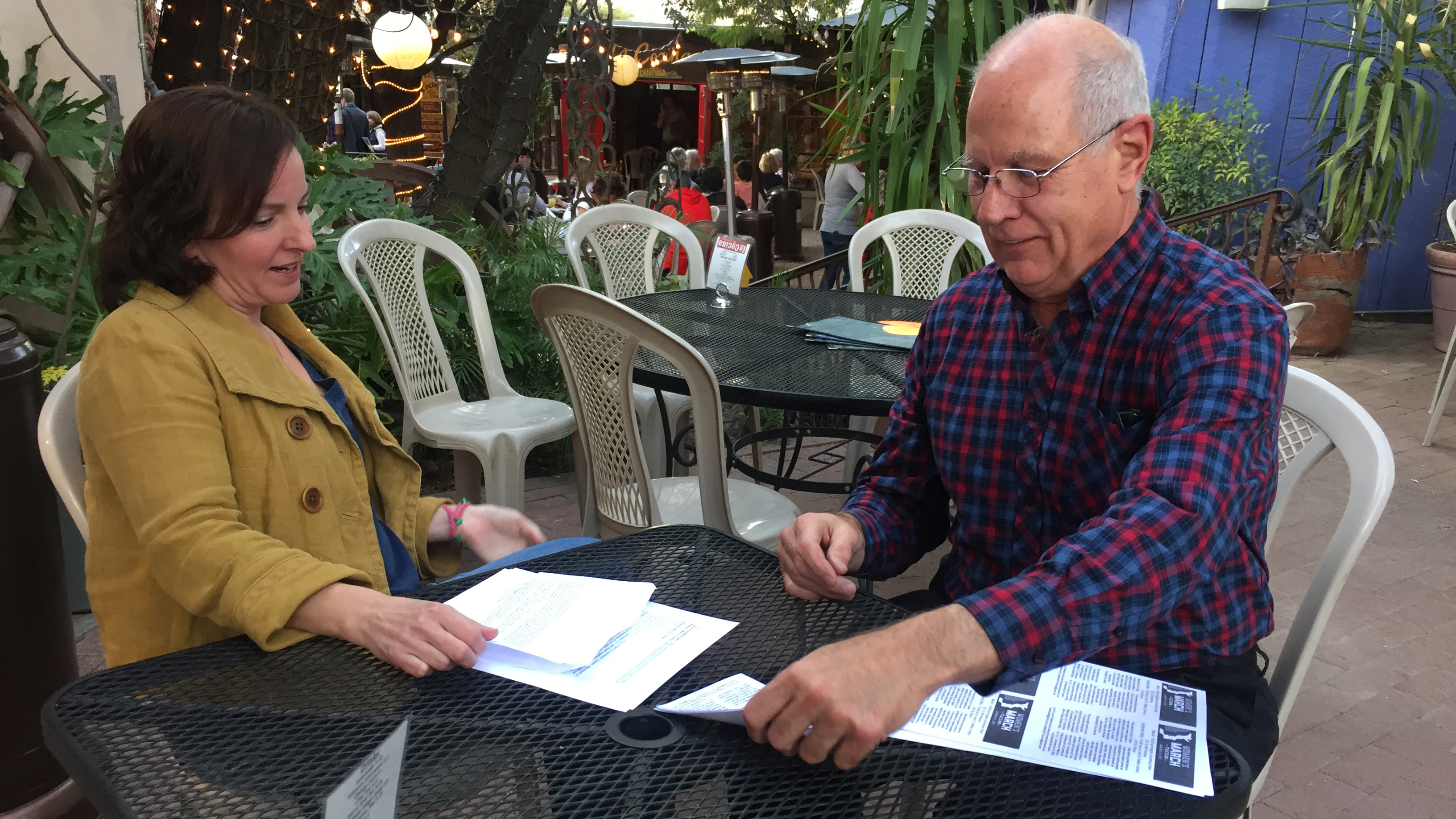 Shauna Anderson and Tim Lennon meet at La Cocina to plan the Tucson Women's March and Solidarity Rally, which will take place on January 22.

Vanessa Barchfield, AZPM
Some of the communities he sees as vulnerable include Muslims, Mexicans, immigrants and gays and lesbians.
"There's a lot of xenophobia."
Anderson and Lennon said the march is meant to show solidarity as a community, and that it is not anti-Trump. Instead, Anderson said, "this is a march for obtaining and maintaining the rights that we have worked hard to get in this country."
Florence North says she hopes the marches result in more recognition and representation of women.
"We missed the glass ceiling this year, but that doesn't mean we can't forge ahead in the next four, eight years," she said.
But that's not the only thing that'll be on her mind.
"This is a senior citizen park. We have to be pretty vigilant to make sure we don't lose our Medicare and social security benefits, that children are taken care of, that education is taken care of. People are worried about the environment. So I guess you could go across the whole spectrum. Not only human interests, but people interests."
The Women's March in Tucson tarts in Armory Park next Saturday, Jan. 21 at 10 a.m. Anderson said that despite its name, it is open to everyone.
"Anyone who supports women's rights, immigrant's rights, and the things we're marching for that day is invited to take part."
Visit the website to learn more.
The Tucson Solidarity Rally will take place at the end of the march, at the Joel Valdez Main Library Plaza, starting at 12 p.m.