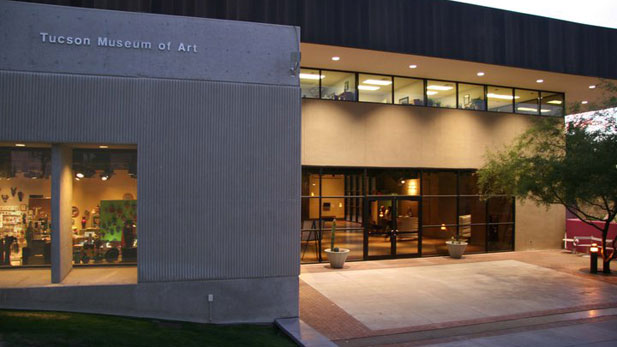 Tucson, Ariz – This school year the Tucson Museum of Art will offer a complimentary annual student membership to approximately 3500 high school art students currently enrolled in visual arts classes, and their art teachers, in the Tucson Unified School District and Sunnyside Unified School District.

The program was the brainchild of the Museum's Board of Trustees member and former city council member Steve Leal. "The museum's mission is connecting art to life," he says, " What better way to connect to today's youth, and especially to those who are already engaged in creating art, then to give them an opportunity to be a part of a major art museum here in Tucson." He continues, "The museum does a phenomenal job working with local schools both inside and outside the classroom. This program extends that outreach by welcoming future artists and art supporters today."
This special membership includes: · Unlimited free admission to the galleries and historic properties for one individual for one year
· Invitations to all exhibition openings
· Discounts on studio art classes
· Use of Museum's Research Library
· Free subscription to members' newsletter, Preview
District art teachers will be responsible for creating a roster of art students who qualify for membership and must submit it to the Museum electronically by August 31 in order for students to receive their annual membership. Membership packets will be sent to the teachers by September 30 who will then give the materials to each student enrolled.
Students in other districts in the Tucson metro area may be eligible provided the district contacts the Museum's membership department with their rosters by August 31.
ABOUT THE TUCSON MUSEUM OF ART Embracing the traditional with the inventive, the Tucson Museum of Art presents exhibitions with a focus on Art of the American West, Asian Art, Latin American Art, and Modern and Contemporary Art, and boasts a permanent collection of more than 8,000 works. The Historic Block features five distinctive houses built between c.1850 and 1907 that provide a unique look into Tucson's past. The Museum is open Tuesday – Saturday 10:00 am – 5:00 pm and Sunday 12:00 noon – 5:00 pm. The first Sunday of each month is free. It is located at 140 North Main Avenue in historic downtown Tucson and can be found on the web at www.TucsonMuseumofArt.org http://www.TucsonMuseumofArt.org .