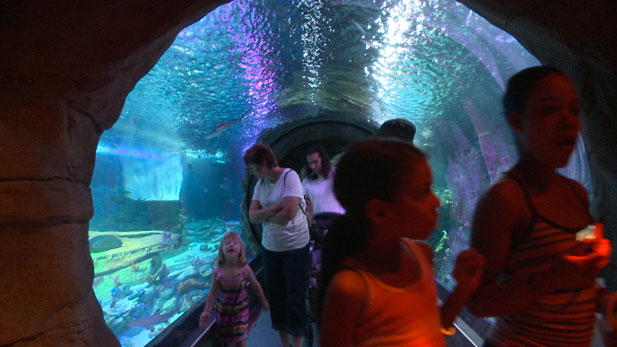 PHOTO: azpm
Desert Aquariums
A new aquarium in a mall is turning out to be a huge hit for people who want to learn more about marine life while escaping the oppressive heat in the Phoenix area. Sea Life Arizona opened in a 26,000 square foot space formerly occupied by a health food store at the Arizona Mills Mall in Tempe. It was built for about $15 million dollars and is part of the Merlin Entertainment Group from the United Kingdom which also operates Legolands and other aquariums in different countries. It opened on May 14th of this year and had already seen more than 150,000 visitors in the first couple of months.
Kelly Schwartz is the marketing manager for Sea Life Arizona. She says the facility is meant to be enjoyed by all types of people but focuses on children. It takes them on a journey from freshwater species to creatures that one would find in the Sea of Cortez. From there, visitors follow a path into a tropical waters exhibit where people are surrounded by a 360 degree tank inhabited by rays, sharks and other species.
"The response from the community has just been overwhelming. We've seen families from all over the state, school children from all over the state, we've had boys and girls clubs coming so we've really been embraced, we're really thankful," says Schwartz.
Crystal McGoodwin is a nurse in Phoenix and went to the aquarium for the second time so she could celebrate her son's birthday with several of his friends. "I love it, when I found out I felt special and proud to be a Phoenician." She thinks the aquarium is a good idea for children and everyone as a whole, specially during the summer break. "It's hot, it's inside, indoors, and you know, educational for the kids too," says McGoodwin.
And while Sea Life Arizona is proving to be quite successful, it is only one of two aquariums in the metropolitan area. The Wildlife World Aquarium was added to the zoo in Litchfield Park in Decemer of 2008 after years of planning and construction. "It's three separate themed buildings. One theme is the diversity of life in water, we have a second building that is wild and wonderful and the third building is the predators as you see in the tank behind me, " says Mickey Ollson, Director of the Wildlife World Zoo and Aquarium.

He says all of the facility was built for about seven million dollars which includes a gift shop and the parking outside. " "Here on the aquarium side we have monkey islands, we have a huge flamingo exhibit next to our bar and restaurant , we have Arizona's only white alligators, two of them- one in the aquarium, one in the zoo. We also have penguins which are very unusual and very popular, the only penguin exhibit in the state and about 90 different kinds of aquatic creatures, different fish, amphibians, so on and so forth, " says Ollson.
Sydney Milburn is 11 years old and visited the facility with her relative and a friend. " I like it, I think it's cool," she says, " That it can show how fish and sea creatures live and stuff."
Alyssa McDonald is a marine biologist who used to live in Hawaii but now resides in Yuma with her husband who is in the military. When they drove to the Phoenix area, they made a point to visit. " It was awesome, I thought it was a really great opportunity to look into some jobs and hopefully if we move closer than we can come out here."
But while both aquariums in the Phoenix area seem to be doing so well, Mickey Ollson says they should not be considered sure bets as part of city revitalization efforts. Ollson's facility is private, and did not use any public funds. He says it required a lot of time on planning, architects, construction and studies. "You really have to have an entrepreneurial spirit and I think the private aquariums that have that entrepreneurial spirit get a bigger bang for the buck than the bureaucratic, municipal aquariums do," he says. "There's been several aquariums, or at least one or two that have been built that have cost up to 75, 80 million dollars were not successful and they sold at auction for 13 or 15 million."
Still, if favorable conditions exist, supporters say aquariums might be worth exploring. "I think any community that has a lot of families and is looking for things to do that has a nice travel and tourism market works for an attraction like this so an attraction where a family can come, spend a couple of hours, get out of the heat, you know, something along those lines it's going to work really well. So I don't know if Sea Life Arizona has plans to expand into Tucson but I do think that Tucson is a viable market for attractions like the aquarium," says Kelly Schwartz, manager of marketing at Sea Life Arizona.
So far, the formulas are proving successful in the Phoenix area. "We've had a wonderful response," says Mickey Ollson, from the Wildlife World Zoo and Aquarium. "The aquarium is paid off, we've been able to pay off the debt on the aquarium and so it's debt free and we're already planning to building our next exhibit which will have a large marine turtle exhibit, it'll have 80 thousand gallons freshwater, a South American exhibit, some underwater viewing of Asian otters and some other smaller tanks."
And both facilities say much of the water that they contain is used extensively since it isn't being replaced constantly. Kelly Schwartz explains, "I think that one thing about Sea Life Arizona, we do have just over 200K gallons of water in the aquarium but we're constantly recycling that water so we're able to filtrate and use the water that's already been in existence in the tanks and in addition to that we're also a great educational opportunity for kids."