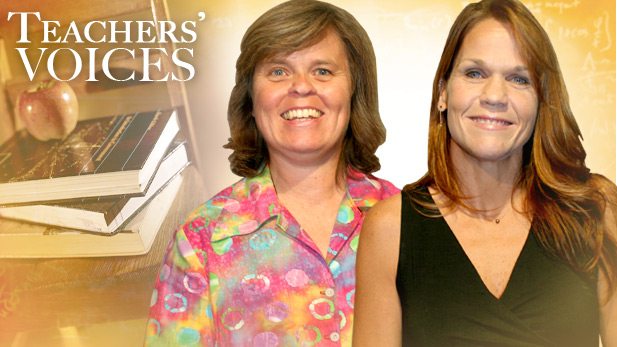 Bernadette Boschert (left), counselor and Barbara Kohl (right), principal, both at Ft. Lowell/Townsend K-8 School.
Principal Barbara Kohl: "Do you remember how stressful it was in March and April when all these decisions were coming down?"
Counselor Bernadette Boschert: "Oh, are you kidding? I wasn't sleeping. Were you?"
These are the stresses and strains of dwindling budgets and shrinking resources that have taken a toll on the lives and careers of Tucson educators and students.
This past spring, Ft. Lowell Elementary and Townsend Middle School found themselves overwhelmed by this financial reality. Both schools were faced with the option to close or merge with another school.
Due to the hard work of staff, parents, and students a solution was found, the creation of the new Ft. Lowell/ Townsend K – 8 School.
Kohl: "The option to do nothing was not considered, well, it was actually considered but…"
Boschert: "Right, to do nothing or be done to, and neither of those were OK with either school."
Kohl: "And that's not the right thing to do for children. You don't take the passive approach to our children's education, as parents we don't. So, as the people entrusted with educating the children of this particular community, we knew we couldn't just sit there...We had to go forward."
But going forward meant the closing of Ft. Lowell Elementary.
"I am sure that there were moments when Ft. Lowell staff and students felt tremendous sadness," said Kohl, principal of Townsend Middle School since 2005 and the new principal of Ft. Lowell/Townsend K – 8.
A wall in the front office area at Ft. Lowell was quickly covered with messages of loss and hope.
"We'll miss you Ft. Lowell, we love you Ft. Lowell, we're sad but we're moving forward," Kohl recalls.
In this week's Teachers' Voices, listen to the struggle of two schools fighting to adapt and survive.
To hear more stories, visit the Teachers' Voices archive.
(Funding for the production of Teachers' Voices is provided by Wells Fargo and the University of Arizona College of Education. The series is produced by Matt Felix for Arizona Spotlight.)