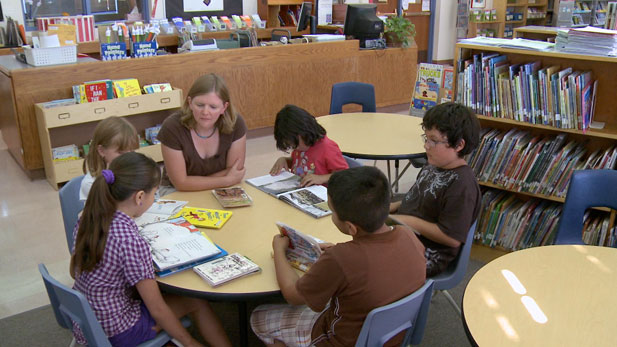 Tucson Unified School District classroom. (PHOTO: AZPM)
The Tucson Unified School district will hold another teacher recruitment fair Saturday in an effort to fill dozens of open classroom jobs.
The TUSD jobs website lists about 110 open teaching positions for the current school year and more than 150 for the school year that starts in August. The jobs are at all grade levels in the district, which has 89 schools and about 6,000 teachers.
The district in a press release invited teachers to apply and interview at Catalina High Magnet School Saturday from 9 a.m. to 1 p.m. The school is at 3645 E. Pima St.
Beginning pay for teachers just out of college is about $37,000. More experienced teachers and those with graduate degrees earn well into the $40,000 to $50,000 range.
TUSD and most other public school districts in Tucson and around the state have had difficulty recruiting and retaining teachers, with teacher pay scales that are among the lowest in the country.
Gov. Doug Ducey proposed what he called permanent raises for teachers in his budget, with an increase of 0.8 percent a year for the next five years, totaling after that time 4 percent or about $1,000 for the teacher earning the average salary.
http://jobs.tusd1.org/teacher-jobs