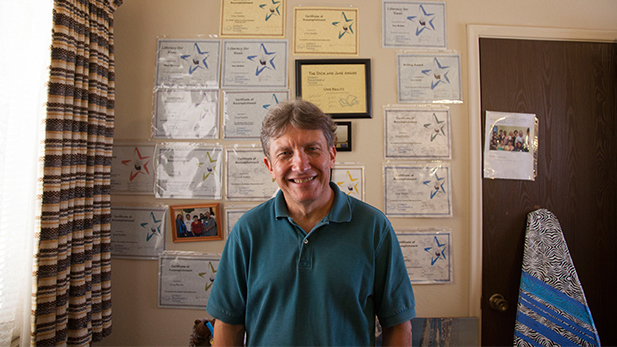 Uwe Keilitz stands in front of his reading awards in his home office.
More than 80,000 adults in Pima County do not have a high school diploma or GED, according to Pima Community College.
That statistic makes them less likely to have a job, and their children mirror their prospects, said Regina Suitt, a vice president of adult basic education at Pima Community College. She says the best indicator of how a child will do in school is his mother's education.
"The more we help mothers and parents, the more we're helping children," Suitt said.
Gov. Doug Ducey declared this Arizona Adult Literacy Week, a chance to celebrate those who overcame the kind of barriers that crop up when someone doesn't finish high school.
A high school diploma or GED is one indicator of a person's literacy, Suitt said.
"I think a lot of time when people hear the word literacy, they think of somebody who cannot read or write at all, and truthfully there's not that many people in that boat," she said. "Most people are low literacy level, and it's a barrier to them doing things that everyone else takes for granted."
Pima Community College offers adult education in literacy, GED courses, and works with other programs in Tucson to educate the 14 percent of adults who have not completed high school.
Although the two are not connected, Adult Literacy Week ends with the Tucson Festival of Books Saturday and Sunday.