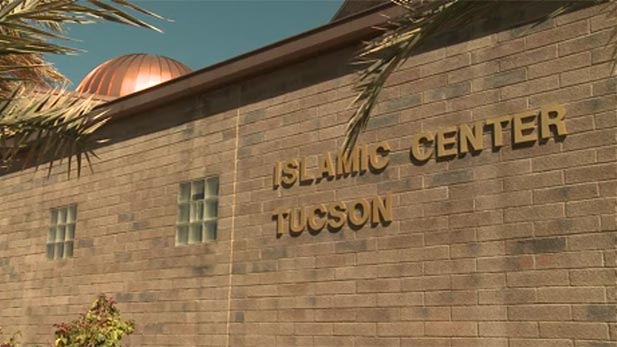 The Islamic Center of Tucson, 2011.

AZPM Staff
The political atmosphere in the United States has helped create misunderstanding and fear of the Islamic religion and its people. To counteract that, the Islamic Center of Tucson next week will foster dialogue among middle schoolers about faith.
Islamic Center volunteer Irfan Sheikh says it's vital, now more than ever, to create bridges and understand how people of various faiths differ and relate.
"People talk about differences between different faiths and cultures," Sheikh said. "Yeah, we have differences. Nobody is denying that. But nobody said it means we can't live together. So I think we start with our kids, and make it a reminder we are going to live together."
Sheikh said that is the reason the center will host a conversation next week between middle schoolers from Tucson's Muslim community and the private Imago Dei Middle School about their respective religious identities.
Two seventh graders from the Muslim community will explain what it means to them to be Muslim, followed by group discussion. Imago Dei kids will also tour the center's mosque and observe a prayer.
Sheikh said the day's events will be in the hands of the young participants.
"It's not going to be an adult talking to kids," he said. "It's going to be between kids, sharing their faith, their practices, their culture."
Tuesday's event is closed to the public, but Sheikh encouraged Tucsonans to keep up with the Islamic Center on Facebook and Twitter for information about future events.